Our Extrusion Manufacturing and Stockholding facility offers a wide range of processes and materials, to allow us to produce a vast range of rubber products in small to medium volume for a huge range of industries.
Extrusion Techniques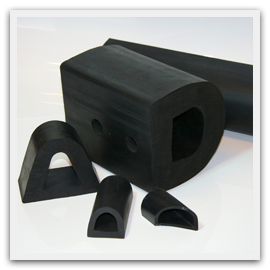 Rubber extrusions are made by a traditional process established in the 1850's whereby a screw continuously feeds rubber under pressure through a barrel which controls the temperature of the material until it is forced though a shaped Die, producing the required profile. This Die may not in fact look anything like the final profile, as the rubber tends to swell as it leaves the Die, and in the case of organic materials, the profile then has to be cured off under temperature and pressure to complete the manufacture of the profile. Inorganic materials such as silicone can be cured by microwave ovens, and as such silicone profiles are often quicker and cheaper to produce. Additional features can be added during the process, such as Flocking to reduce sticking of an opening joint, self adhesive backing tape etc.
Advantages:
Rapid production of profiles
Low wasteage
Customised Dies can be quickly produced

Very large or very fine parts can be produced
Additional surface properties can be added, for example low stiction coatings.
Disadvantages:
Irregular parts may need to be supported by formes prior to cure
Autoclaves are expensive to run and maintain
Lateral features can require secondary processes

Softer grades tend to collapse, not giving a "true" form
Detailed information and specifications are available on this page
Shot Joining
The process whereby two pieces of extrusion are joined, forming a corner, thus completing a fabricated assembly. The required lengths are cut, prepared with a suitable rubber bonding solution, then placed in a heated mould which replicates the profiles engaged in it, as well as the required corner geometry. The mould is closed to capture the extrusions, and a shot of uncured rubber compound injected into the gap between the extrusion ends, curing into the required shape of the corner, and simultaneously bonding to the ends of the extrusions as its vulcanisation process completes. Examples of the process can be seen in vehicle glazing seals, Dock Gate seals, etc.
Special Extrusions manufactured for:-
Fenders
Tubes
U Channels
Solid Cord (O ring)
Sponge Cord (O Ring)
Glazing Seals
Container Door Seals

Bead Sections
Flexible Self Grip Sections
Sponge Sections
Plastic Pelmet Sections
Plastic Wing Piping
Cable Protectors

Canvas Covered Gasket
Dock Gate Seals
Our catalogue is also available on CD-ROM on request.
Finishing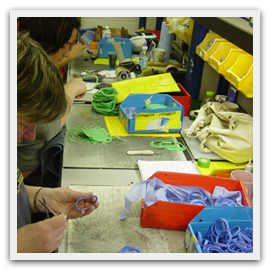 We employ dedicated skilled finishers to ensure that your product is not only manufactured, but also trimmed, finished and packed to the excellence that we maintain throughout our manufacturing cells, meaning that there is a level of craftsmanship akin to the quality level you would expect.
We also offer a dedicated Kitting service for our own MR Seal Kit products range, or bespoke customer specified kits to be supplied complete and finished to production stores.
From this section of our web site you can access details on our Extrusion Products, detailed Technical Specifications, our Standard Extrusion Products and more detail on the various Processes / Techniques available for the production of Rubber Extrusions. Please follow the links for further information.