Martins expand our range of Cable Protectors
Posted on 01/02/2012 Category: Product & Application News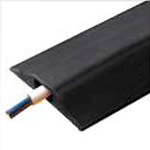 Following the success of the electrical matting on our online web store, we have now expanded the cable protector range to include a broad selection of Vulcascot cable protectors, well known for their innovative designs and reliability throughout industry. Available options include the indoor Snap-fit™ flexible range, ideal for office and retail environments, the snap-fit Hazard Control™ range which have hazard warning stripes along the sides to help prevent trips and falls, and the Crysclear™ option, ideal for LED strips as it blends into floor coverings due to it's translucent properties.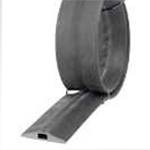 The Vulcascot industrial range is ideal for outdoor environments such as constructions sites as they protect against heavy-wheeled traffic, and the Temporary Traffic Calming™ cable protectors go a step further, including hazard strips to encourage traffic to slow down.  Finally, the new rigid, heavy duty snap-top cable protector system has been designed specifically for contracts work and outdoors events; available in lengths of 900mm, it can be easily laid for temporary use, or more permanently fixed in place. For further information and to purchase the Vulcascot range, please go to our Online Shop, or call us on 023 8021 6330. Author: Claire Ford 1 February 2012
The post Martins expand our range of Cable Protectors appeared first on Martin's Rubber Company.