Neoprene vs silicone for rubber gaskets
Posted on 25/05/2016 Category: Rubber gaskets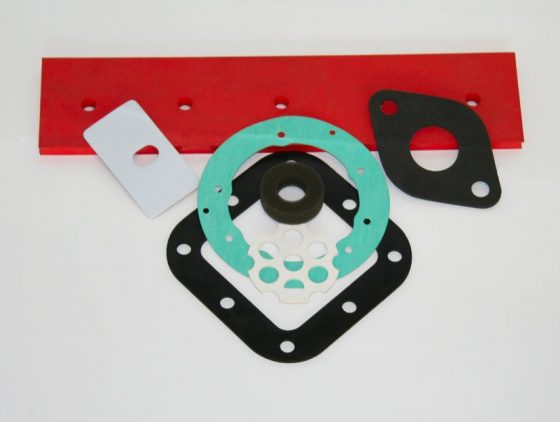 Gaskets protect machinery from adverse weather conditions by keeping out water, dust, dirt and debris. To deliver optimal performance, gaskets need to be flexible, durable and versatile. Neoprene and silicone are both commonly specified materials for making gaskets because they both exhibit these characteristics – but which is better? When deciding whether to opt for a neoprene or silicone gasket, it's important to weigh up their pros and cons to decide which will suit your application the best. Martin's Rubber can talk you through your options in more detail, but here we've compiled a handy checklist of their various advantages for you to consider.
Properties of silicone gaskets
Silicone gaskets come in solid, foam and sponge varieties – making it an extremely versatile option. It is a resilient material that boasts high temperature stability and does not react with many substances, rendering it generally inert. Silicone is an excellent choice for gaskets because it forms a tight seal and repels water. Plus, its ability to withstand temperature extremes make it superior to many other types of rubber. Solid silicone can be used with metal closures and requires good closure force, while the closed cell structure of silicone sponge and foam make them suitable for environmental sealing applications where lower closure forces are relevant. Suitable for use in either high or low temperature environments, Silicone sponge's firmness is measured in psi or density, with two to five psi or 250kg/m3 considered soft and 14 to 20 psi or 650kg/m3 considered firm. Silicone foam with a closed cell structure is therefore suited for an environmental enclosure. Silicone has good compression set performance, but its tear strength The advantages of silicone include:
Flexible – It won't freeze or crack at high or low temperatures.
Waterproof – It won't break down because of exposure to water.
Shrink-proof – It won't shrink over the course of its lifetime
Very good weather resistance – It is not susceptible to ozone or UV attack
Properties of neoprene gaskets
Synthetic rubber neoprene is the DuPont trade name for chloroprene, a versatile synthetic rubber. It displays good resilience and resistance to UV and ozone damage. This durable material can withstand temperature highs of up to 120°C, and lows of down to -40°C. Neoprene has good chemical stability, and good general resistance to oils and petroleum-based fuels. The advantages of neoprene include:
Good thermal stability – It is flexible over a wide temperature range
Waterproof and corrosion resistant – It is resilient to environmental factors.
Good all round chemical resistance – not unduly affected by common fluids or weathering.
Good all round physical properties
Compare neoprene and silicone gaskets
Neoprene and silicone have similar characteristics and uses. However, they are subtly different in properties and characteristics. When deciding which gasket material to specify, it is important to weigh up their advantages and disadvantages when compared to the particular demands of your application. Neither material is better than the other overall per se, it entirely depends on your specific needs. Silicone is the best choice for applications that will be subjected to extreme temperature ranges or weather exposure, while neoprene is better for applications that require oil-resistant and tear-resistant properties. In essence, we would always recommend speaking to a Martin's Rubber expert for an honest assessment of which particular material will best suit your application. Find out more about our rubber gasket products by speaking to us on 023 8022 6330, or email [email protected]
The post Neoprene vs silicone for rubber gaskets appeared first on Martin's Rubber Company.