Non-asbestos gasket sheet materials
Posted on 16/12/2015 Category: Gasket sheets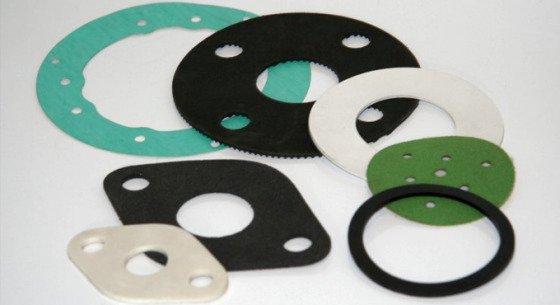 In this blog, Martin's Rubber Company explains why asbestos gaskets are rapidly becoming a thing of the past, thanks to safer modern non asbestos gasket materials. Gaskets fill the irregularities of less-than-perfect mating surfaces on machine parts and are commonly produced by cutting from sheet materials. For specific applications, such as high pressure steam systems, gaskets used to contain asbestos. However, due to well-publicised health warnings surrounding asbestos exposure, non-asbestos gasket materials are nowadays preferred wherever possible. Asbestos is an exceptionally versatile material, however, health and safety concerns mean that in general it is only used in exceptional circumstances these days, and Martin's Rubber ceased supplying such products many years ago. If you think you have asbestos in a pre-existing application, HSE guidance for safe handling is available.
Gasket sheet materials
It is usually desirable that the gasket be made from a material that is yielding to some degree, so that it is able to deform and tightly fill the space it is designed for, including any slight irregularities. Some gaskets require an application of sealant directly to the gasket surface to function properly. Gaskets are normally made from a flat sheet material, such as paper, rubber, silicone, metal, cork, felt, neoprene, nitrile rubber, fiberglass, polytetrafluoroethylene (otherwise known as PTFE or Teflon) or a plastic polymer (such as polychlorotrifluoroethylene). High temperature applications were historically dealt with using asbestos, however this became a banned substance in the 1990's due to health & safety concerns, and all reputable manufacturers withdrew their asbestos style gasket products from general sale. These days, asbestos can only be specified and supplied under specially licenced conditions in the UK, although it is still routinely used elsewhere in the world, such as in China and India, so products from these regions should be carefully qualified before use.
Sheet gaskets explained
The premise is simple; a sheet of material has the gasket shape 'punched' out of it, which leads to a very effective , fast and cheap gasket. Historically, for high temperature applications the material was compressed asbestos, but in modern times alternative fibrous materials – like high temperature graphite or carbon – are preferable, and can only be supplied for UK applications unless very specific licencing is in place for asbestos use. These fibrous gaskets can fill many chemical requirements, based on the stability of the material used, and fit many budgetary constraints.. Superior performing gasket materials for steam and high pressure applications are readily available, often featuring carbon fibres and advanced elastomers in a composite construction, but specific advice must be sought to ensure the right product is specified for any given application.
Martin's Rubber gasket materials
Rubber gaskets and shims are available in all the common polymers. Materials range from very soft foam to rigid engineering plastics, in self-adhesive or plain finishes. Specialist grades provide properties such as high wear, high temperature or extreme weather resistance. Martin's Rubber stocks a full range of cork, non-asbestos fibre, EMI/RFI shielded, insertion and paper materials, which can be converted into finished parts rapidly. If you need sheet or gasket materials, we supply a useful 'Sample Card'; a card that features a range of solid and sponge gasket and shim materials on it. This can be helpful in assessing the feel and properties of various solutions. Each material has a full data sheet available and our staff are happy to advise on the most suitable material for any specific applications or problems you may have. Obtaining rubber samples is often the best first step in arriving at the right solution. Contact us today on 023 8022 6330, or email [email protected], for more information about all our rubber manufacturing services and products.
The post Non-asbestos gasket sheet materials appeared first on Martin's Rubber Company.