Our expertise in rubber matting and rubber sheets
Posted on 04/01/2016 Category: Rubber sheeting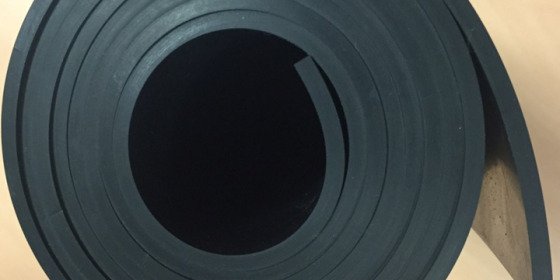 Rubber sheeting and matting are commonly used across a huge variety of industrial, domestic and commercial environments. Here's our guide to the complete range of rubber matting and sheeting products available from Martin's Rubber Company. Think of virtually any industrial setting or application and chances are that rubber matting or sheeting will be employed to some degree. Whether it be fabricated rubber gaskets, through to rubberised non-slip flooring, these flexible all-purpose products are the unsung heroes of the industrial world.
Rubber matting for a range of applications
Martin's Rubber Company has a range of rubber sheeting products, including floor matting, for industrial and commercial use. We offer a variety of floor mats, from fine fluted grades of light-weight flooring through to BSEN61111:2009 electrical matting, and allied thermoplastic matting grades. Our mats are used in industrial situations to prevent fatigue, wear and slippage, and are also suitable for retail and leisure environments where thoroughfares experience a heavy footfall from the public. Our mats are used in applications such as entrance ways, catering hygiene, sports impact, anti-fatigue, anti-slip, leisure, animal husbandry and sales promotion. We supply rubber matting in many of the common polymers, carefully selected to confer relevant properties such as high wear, high temperature or weather resistance, and with a range of surface finishes. We can provide part or full rolls of matting, or can cut it to size – just speak to one of our advisers for guidance.
Rubber sheets of all grades and thicknesses
Martin's Rubber also carries large stocks of rubber sheeting materials, from traditional solid natural rubber grades through to high specification synthetic rubbers like Viton® and silicone. We supply diaphragm sheeting, insertion materials and shotblast/abrasion sheeting. Rubber sheet thicknesses can vary from special thin gauge materials at 0.3mm, through to heavy-duty 25mm thickness materials. Even thicker sheeting can be provided to special order. We offer standard commercial grades of rubber, used for basic industrial and domestic applications, as well as military specifications. We also specialise in high performance materials manufactured to specifications such as BS1154, BS2751 and BS2752. We also offer materials that have been developed, not only to a specification, but for specific industries or uses. We offer food grade and FDA compliant rubber sheeting, as well as materials that are WRAS (Water Regulations Advisory Scheme) approved. All of which can be supplied as part or full rolls. We also manufacture custom sizes or special materials for specific applications. Depending on your requirements, we will punch, cut or fabricate a sheet material to supply as gaskets, strips, fabricated rubber gaskets, and with suitable adhesives for bonding to a variety of substrates when required. Contact us today on 023 8022 6330, or email [email protected], for more information about all our rubber matting and sheeting products.
The post Our expertise in rubber matting and rubber sheets appeared first on Martin's Rubber Company.