Rubber gasket sheet materials explained
Posted on 05/11/2015 Category: Gasket sheets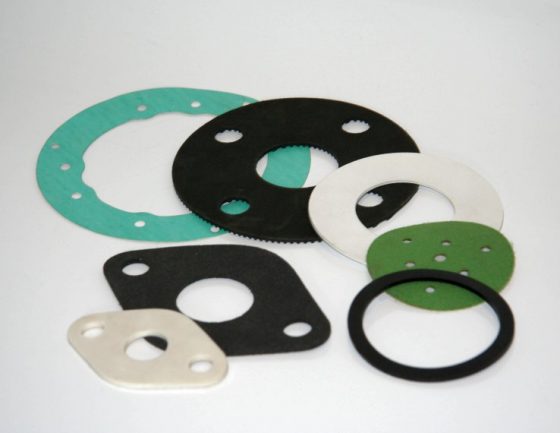 At Martin's Rubber we pride ourselves on our in-depth knowledge of gasket sheet materials. In this article, we outline how we can help you to take the hassle out of the whole selection process in one fell swoop. Rubber gaskets and shims are one Martin's Rubbers' core products. We stock all sheet materials and have the facility to manufacture custom parts, as well as standard patterns like ANSI pipe flanges. Our sheet materials are ready to cut or punch gaskets, either using hydraulic cutting presses or by hand fabrication.
Bespoke and standard gaskets
Because we have a wide range of standard cutters, for items such as washers or pipe flange gaskets to BS EN 12560, we can provide most standard parts on a quick lead time and can supply to order or to a schedule if required, as well as make up kits of parts for spares. Martin's manufactures bespoke rule forme cutters for gaskets of special dimensions for which we don't already have a cutter. We can also manufacture or source special materials for specific applications and fabricate extremely large gaskets for products such as tank seals, bunker lids, glazing seals, containers and enclosures. Manufacturing, stockholding and fabrication facilities enable us to supply both bespoke and standard gaskets, whilst maintaining sufficient capacity and expertise to offer very short lead times.
Rubber gaskets and shims in all the common polymers
Rubber gaskets and shims are available in all the common polymers. Materials range from very soft foam to rigid engineering plastics, in self-adhesive or plain finishes. Specialist grades provide properties such as high wear, high temperature or extreme weather resistance. We stock a full range of cork, non-asbestos fibre, EMI/RFI shielded, insertion and paper materials, which can be converted into finished parts rapidly. We also supply gaskets and sheet materials in allied products, such as non-asbestos fibre, gasket paper, cork and engineering plastics, and all these options are represented on our Sample Sheet.
Bespoke material solution
In conjunction with our rubber moulding facilities, we can also manufacture special sheeting grades to provide a bespoke material solution should it be required. When assessing your requirements for a rubber product, our primary recommendation would be to pay us a visit. A conversation in person can often cut out both time and confusion.
Are you getting what you think you are?
Gasket and sheet materials are notoriously difficult to compare, as they often look very similar. We provide guidance to some of the pitfalls that engineers and buyers may encounter when seeking to source these kinds of products in a blog feature, so that you can better understand some of the potential pitfalls… Contact us today on 023 8022 6330, or email [email protected], for more details about our entire range of rubber and allied sheet materials, and how we can convert them into the gasket or shim you need.
The post Rubber gasket sheet materials explained appeared first on Martin's Rubber Company.