Rubber Sheeting FAQ: What you need to know about solid rubber sheets, sponge and foam rubber
Posted on 30/04/2018 Category: EPDM sheeting, Rubber sheeting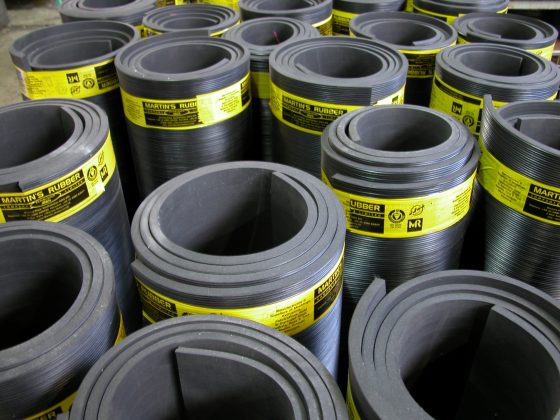 At Martin's Rubber we supply various types of rubber that can be used within numerous industries and applications. But what type of rubber is most suitable for your application? If you're looking for solid rubber sheets, foam rubber sheets or EPDM gaskets for your business, take a look at our frequently answered questions to learn more about the suitability of each product.
What solid rubber sheets are available?
At Martin's Rubber, we specialise in solid rubber sheets for a number of industries. We offer solid rubber sheeting to suit many applications including silicone, neoprene and EPDM rubber sheets. Each of these can be supplied in a thickness to suit your requirements.Each of our solid rubber sheets have different properties that are suited to different types of applications. The thicknesses of our solid rubber sheets can be chosen to suit your business requirements too. Our solid rubber sheeting rolls are available in a number of thicknesses, including 1.5mm, 2mm and 3mm.
For which applications are silicone rubber sheets suitable?
Silicone rubber sheets help to reduce vibration and high-volume noises from passing through. This type of rubber sheeting has excellent thermal properties and is incredibly flexible. Silicone rubber sheets are suitable for mass transit applications, sealing, thermal insulation and gasketing. The flexibility of this type of rubber sheeting means that it can be modified easily and responds well to a variety of circumstances.
For which applications are neoprene rubber sheets suitable?
Thanks to its highly resistant properties, neoprene rubber sheeting can be used in many outdoor and marine applications. Neoprene solid rubber sheeting is resistant to weathering from greases, salts, water and oils.Neoprene can be used for many applications, including corrosion-resistant coatings and landfill linings. Many seals and gaskets are also made from neoprene rubber sheeting. This type of rubber sheet can be used to provide noise isolation in power transformers and weather stripping for fire doors.
For which applications are EPDM rubber sheets suitable?
EPDM rubber sheets are often used for potable water applications. This is a high-grade rubber sheeting product that has good resistance to water, ozone and ageing. It is ideal for exposed applications such as outdoor and automotive applications.
What are EPDM gasket specifications?
It is important that EPDM gaskets are WRAS/WRC approved if being used with potable water. This will ensure that the rubber gaskets are suitable for contact with drinking water, so can be used in external and exposed water applications. EPDM rubber gaskets are generally resistant to weathering, ozone, water and ageing.
What applications require the use of sponge and foam rubber sheets?
Foam rubber sheeting can be used in numerous applications across a variety of industries including the medical sector, marine, defence, aerospace and motorsport sectors. Foam rubber sheeting is often used by packaging companies, construction organisations and glazing companies. Sponge rubber has properties that make it really useful across the automotive industry. This type of rubber is also known as cellular rubber and has many exceptional properties that make it suitable for various industries. Depending on the grade and material selected, sponge rubber can offer anti-vibration, oil resistance and sealing. Sponge rubber can be durable and flexible, and is suitable for packaging use, case inserts and other industrial safety components.
What are the advantages of compression moulding?
This type of moulding can be used for large or intricate parts where a flat gasket would not be suitable. Compression moulding may offer a lower cost than other types of moulding, because the process does not require an injection or transfer cycle – depending on the volumes required and the material selected. Compression moulding is also ideal for large parts that require significant bulk of material for manufacturing. The material is directly loaded into the mould cavity so there is less limitation on the weight of part they can produce.
What are injection moulding advantages?
Some of the advantages that injection moulding can offer include:
Can be used to produce very small parts.
Multiple materials can be used at the same time.
High-output production.
Fast production.
Design flexibility.
Good product consistency.
For more information about the benefits of injection moulding, simply follow the link.
If you'd like to know more about the properties and suitability of solid rubber sheets, foam rubber sheets and sponge rubber, contact Martin's Rubber today on 023 8022 6330.
The post Rubber Sheeting FAQ: What you need to know about solid rubber sheets, sponge and foam rubber appeared first on Martin's Rubber Company.
Other stories in this category: