What is an O-ring?
Posted on 21/09/2015 Category: O-Rings Tags: O-ring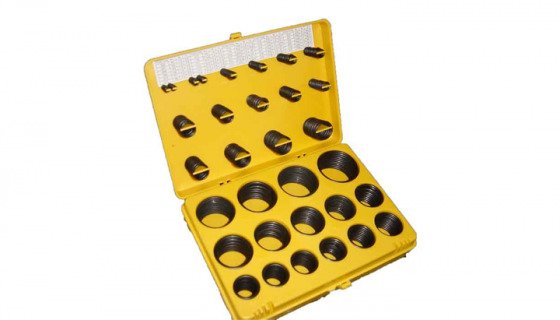 O-rings are among the simplest, yet most important, precision mechanical components ever developed. Name an appliance or application and chances are it will have an O-ring at it's core, as Martin's Rubber explains in this informative guide.
What is an O-ring?
Essentially, an O-ring is a loop of elastomer with a round cross-section that is designed to be seated in a groove and compressed during assembly between two or more parts, creating a seal at the interface. O-rings may be used in static or dynamic applications (such as rotating pump shafts and hydraulic cylinder pistons) where there is relative motion between the parts and the O-ring. They are one of the most common seals used in machine design because they are inexpensive, easy to produce, reliable, and have simple mounting requirements.
O-ring failure at the centre of Space Shuttle Challenger disaster
On January 28 1986, the Space Shuttle Challenger became the highest profile casualty of a catastrophic O-ring failure. Allan McDonald, then director of the Space Shuttle Solid Rocket Motor Project for the engineering contractor Morton Thiokol, was concerned that below-freezing temperatures might impact the integrity of the solid rockets' O-rings. His refusal to sign the launch recommendation, due to those safety concerns, went unheeded. Sadly, he was right.
An O-ring seal had failed at launch, but the hole was quickly resealed by aluminum oxides before any flames could escape and cause an explosion, Strong wind shear that began 37 seconds into flight then tore the seal back open, resulting in the catastrophic breakup.
The failed O-ring, which was reportedly made of FKM, is believed to have lost its pliability and the subsequent positive pressure needed to prevent leaks. After a major overhaul, no O-ring issues are thought to have occurred in any space launches since.
Martin Rubber's proven O-ring expertise
As a manufacturer, major stockist and supplier of O-rings, Martin's Rubber offers the broadest range of choice to suit and satisfy any requirement. Our handy O-ring Size Chart gives you a full rundown of all our available O-ring products to a standard size, a British Standard (BS) specified O-ring to BS 1806 or BS 4518, and information regarding recommended groove sizes. For bespoke sizes or urgent turnarounds, we can even machine turn O-rings in-house for the ultimate in convenience. Our flexible approach means that specialised O-ring orders, that might comprise a geometrically irregular shape or specialist material, can be swiftly brought to life using innovative mould tools. Critical parameters, such as operating temperature and fluid environment, should be considered when choosing an appropriate O-ring, which is why we recommend speaking to one of our highly knowledgable Martin's Rubber specialists to secure the best match for your application. Contact us today on 023 8022 6330, or email [email protected], for more details about our entire range of O-rings.
The post What is an O-ring? appeared first on Martin's Rubber Company.