A guide to EPDM sponge sheet and roll
Posted on 17/08/2016 Category: EPDM sheeting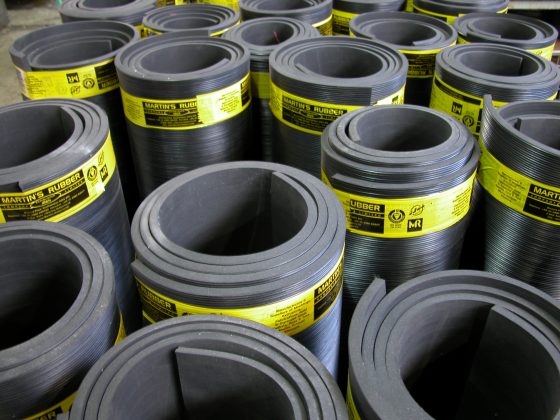 Here at Martin's Rubber, we supply and convert the highest quality rubber sheeting. If you were wondering about the particular properties of EPDM sponge rubber sheeting, then this blog gives you everything you need to know. Here, we discuss EPDM's properties and advantages.
EPDM properties explained
The main properties of EPDM are its outstanding heat, ozone and weather resistance. It has excellent electrical insulating properties, as well as good resistance to ketones, ordinary diluted acids and alkalis. EPDM sponge rubber sheeting is therefore often used in the electronic, automotive and construction industries due to the aforementioned favourable characteristics that make it the perfect material for these types of applications.
Benefits of EPDM sponge rubber
All of EPDM's properties make this particular sponge sheeting the ideal material to use for exposed settings. Further benefits of EPDM sponge rubber sheeting include:
Good UV resistance.
Very durable and relatively cheap.
Good mechanical properties.
Closed cell structure making it impermeable to air and water and therefore an ideal material for sealing against the elements.
Wide temperature range.
Outstanding aging properties and will not go brittle over time.
Available in a wide range – high temperature, hard, soft, supersoft.
Wide variety with a range of thicknesses.
Outstanding weather resistance.
Suitable to be used in various applications.
Strong durability and long lasting.
Where is EPDM sponge used?
EPDM sponge rubber sheeting is a commonly used gasket material that can be specified for a range of applications, including low pressure pipe seals and weather strips. It is also used in radiators, garden and appliance hose, tubing, pond liners, washers, solar panel heat collectors and speaker cone surrounds. It is also commonly used in vehicles, notably in door and window seals.
Here at Martin's Rubber we stock a range of EPDM sponge rubber Sheeting available to purchase online. For further information about our EPDM sponge sheeting please call us on +44 (0)23 8022 6330 or email us on [email protected].
The post A guide to EPDM sponge sheet and roll appeared first on Martin's Rubber Company.