Electrical Matting FAQs
Posted on 29/07/2016 Category: Electrical Safety Products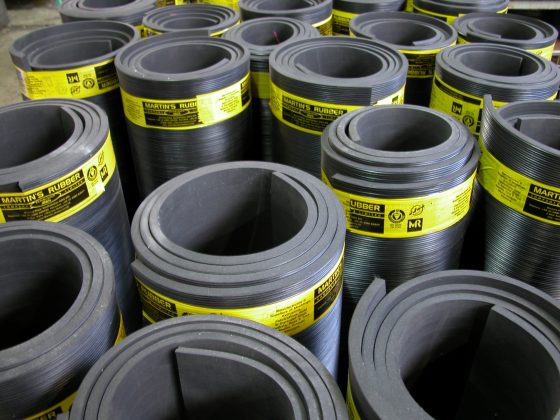 Here, Martin's Rubber have compiled and answered some of your top FAQs about electrical rubber matting. We look at everything from how an electrical rubber mat works, to how we produce them, where they should be used and how to use them safely.
How does a Rubber Safety Mat work?
To start with, we must establish a basic understanding of rubber. Rubber is a natural dielectric material that inhibits the flow of electric charge as a result of its molecular structure, preventing the free flow of electrons.
There are many elements of rubber that make it the ideal material to use for electrical safety matting. Firstly, rubber is suitable to act as an insulator (as it is in many applications throughout the industry) due to its dielectric and electrically resistant properties. The flexible and cushioning nature of rubber also make it the perfect material to use for electrical rubber matting.
Electrical safety matting requires strict quality control procedures as any additives (dyes, fillers, preservatives and curatives) that may have been added to the rubber can affect the electrical resistance of the rubber and therefore how it performs under various circumstances. It is for this reason that our electrical rubber matting is vigorously tested.
How do we produce our Electrical Rubber Matting?
At Martin's Rubber, we follow a process that never fails to deliver the perfect rubber mat for electrical safety. This process consists of four phases, including:
Mixing: The process of manufacturing electrical rubber matting begins with mixing. The ingredients are accurately weighted according to the formula. Following this we pre-heat the mix between 95°C and 104°C and then, we thoroughly mix and use a roller to remove any trapped air to produce an unvulcanised sheet around 2mm-3mm thicker than the finished requirement.
Calendering: The compound of the mixture is then flattened. Due to the pre-heating treatment earlier on, we can ensure a steady operation of the calender and minimal shrinkage. The roller surface temperature is controlled to +/- 1°C.
Rotocuring: The second part of the calendaring process is performed on rotocures, where a ribbed pattern is applied to the top surface and identifying tape is applied to the underside.
Drying & Testing: We then air-dry the rolls before passing them through a 2-electrode testing station. This ensures that every running metre complies to the correct electrical specification according to the thickness; 11kv at 6mm and 15kv at 9.5mm.
Finishing: After having followed the process described above, the material is then wound into rolls and is made available to you in either a full roll or cut down to a specific size.
Where should I use an Electrical Rubber Mat?
Electrical rubber mats should be applied at any point where the risk of electrical shocks are high, including:
In front of switchboards
In front of machine control gear
In plant rooms
In lift control gear rooms
As portable protection for site engineers working on live equipment
How do I use an Electrical Rubber Mat?
You should always make sure you do the following when applying rubber mats for electrical safety. It is vital that you use electrically insulated gloves and have an operator stand on the electrical rubber mat in front of the electrical equipment, thus protecting the operator from a direct shock through their body.
What sizes are the Electrical Rubber mats available in?
At Martins Rubber, we stock a range of electrical rubber mats in standard widths and lengths, and we have the capability to cut your electrical rubber matting to a specific size.
Standard Widths:
450V 1000mm
450V 1220mm
650V 914mm
650V 1000mm
Standard Lengths:
Standard length – 10m
We can cut you an electrical rubber mat to your required size
Find out more information about our electrical rubber matting products by speaking to us on 023 8022 6330 or email [email protected]
The post Electrical Matting FAQs appeared first on Martin's Rubber Company.