Martin's Rubber nominated for Plastics Industry Award
Posted on 07/08/2012 Category: Martins Rubber News

We are proud to have been selected as finalists in the Plastics Industry Awards in the category of 'Supplier Partnership: Toolmaking'.  The basis for the nomination has been our work with Hospital Metalcraft (Bristolmaid) on their range of polyurethane moulded Easy Clean infusion and pump stands, for which we developed the tooling and now manufacture parts.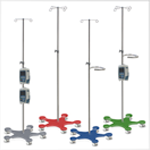 A seamless polyurethane over moulding of the steel base is an innovation in the world of IV stands, designed to aid infection control and extend the lifespan of parts. Hospital Metalcraft have been nominated in the same awards for the design of the stands. Date 8th August 2012
The post Martin's Rubber nominated for Plastics Industry Award appeared first on Martin's Rubber Company.