A Family Business
As the current owners of the business will readily admit, family businesses are not easy to run, and can make Sunday dinners seem more than a little bit like another day at the office!
However, having taken the helm some years ago as the third generation of this family-owned business, the current Directors are proud of their heritage and have the benefit not only of combined experience with a passion for what we do, but also a documented history to go along with their own memories of time spent in and around a manufacturing company at the heart of a community.
Second generation: Brian and Pauline Hooper
In 2005, for our 140th year Anniversary Edition Newsletter, we featured Mr Bert Campbell and the generation he handed over to, his daughter Pauline and son in law, Brian Hooper.
Mrs Hooper kindly put together some memories of this period, during which time the company really developed the multi-faceted character it has today.
"I grew up around the family business despite a brief interlude during the war when my brother John and I were evacuated to Scotland during the Blitz, and after completing studies at Winchester Art College, left home to work in London in 1954 where I was employed as a P.R.O. at D.H. Evans in Oxford Street. However, this career was fated not to flourish as I received a call from my mother Nita to say that father, Bert Campbell, had developed heart trouble during the summer.  As a result, I returned home to help out and started work at Martin's as a general 'dogsbody'.  In May of 1956 I was introduced to Brian Hooper in a pub, thanks to a mutual friend, also a marine engineer.  Brian was then studying at Southampton University and sitting his final Marine Engineering 'Chief's Ticket'.  The Hoopers were a Quaker family of Watchmakers and Silversmiths from Mere in Wiltshire; this background and his palindrome birth date of 10-10-20 seemed to combine to form a lifelong fascination with Engineering and Mathematics.
Brian had gone to sea aged 22 in May of 1942 as a 6th Engineer although he was in a 'protected' occupation as an Apprentice Engineer at the T, H & J Daniels Works, Stroud, Gloucester – he really wanted to join the RAF but his mother discouraged him as she thought it would be too dangerous and the Merchant Navy would be much safer. So he sailed out of Liverpool on the 'Moreton Bay' straight into the Battle of the Atlantic.  Despite being a wonderful raconteur, he never really said much about these experiences, preferring to concentrate on happier times which came later in his life. He served on a variety of ships until his demob in 1946, whereupon he tried farming back in Gloucester for a while with his brother-in-law. Realising he was not going to make any money there, he returned to sea
to the best paying job he could find – going down to the South Atlantic and South Georgia in 1951, where he stayed as an Engineer sailing on the Whalers of Christian Salvesen until 1953. During this time he paid his own expenses to progress through the various exams needed – passing through full steam and diesel certification, graduating to far more comfortable modern ships.  His last ship turned out to be the M.V. Auk sailing out of London on the Port Wine Trade from February to April 1956. I had also progressed in my career at Martin's and was helping my mother with the book keeping. In those days the double entry system was very tedious but also very reliable. I started evening classes in short hand and typing.  However, I then met Brian on 8th May and with that distraction, never did get to learn short hand! After Brian had passed his exams, he stayed on to do a 'boat ticket' (lifeboat practice) for another week. The relationship was that serious and in November we became engaged. Very soon after, my father offered him a job and on 1st December 1956 he started as General Manager and Traveller for Martin's Rubber, having made the decision to leave the sea. We married on 25th May the following year and had Adam a year later. I recall working until six weeks before Adam was born and decorating our first home in my spare time. I also remember it was lucky that both our sons, Adam & Paul, were born on Sundays because there was no paternity leave in those days and Brian often worked from 8am to 6pm on Saturdays. His first engineering job was to build and commission the newly acquired two roll Rubber Mill
Bert had bought from Dunlop Rubber.  Bert asked him after a couple of days why the huge machine was not running so Brian enquired whether he wanted it to run for months or years and Bert stomped off having had to recognise that his home grown skills were not up to serious engineering tasks. The Mill ran like clockwork until it finally became redundant due to ever tightening Health & Safety regulations, and was scrapped in 2004 after 48 years of trouble-free service. Brian went on to design and build many more pieces of equipment and we still have a couple of presses in active use which were built by him. In those days, our main customers were J.I. Thornycroft, Harland & Wolff, Vickers & Armstrong and the various ship fitters at Portsmouth Dockyard.  During this time we really started to diversify into supplying anything our customers wanted, whether it was rubber mouldings, hoses, fittings, flooring or gaskets. One of my early jobs was making a hundred drawing board covers for Thornycroft out of 1/16″ insertion rubber with slots for battens on my mother's hand sewing machine, which was never quite the same again! As time went on, Brian was able to purchase all the company shares outside the family as well as buying our house and educating the children (of which by now there were three – Paul, Adam and daughter Kate). It was a tremendous commitment especially as my parents became increasingly frail. My mother's eyesight began to fail, so when Kate was a year old I returned to work, in September 1964, after a six-year break.
Martin's, meanwhile, had expanded its premises, together with its product base and, consequently, its employees. One particularly pleasing experience for Brian was to revisit T,H & J Daniels in the late 1970's, this time as a customer for their rubber moulding presses and be treated to lunch in the Directors Dining room – a world away from his time as an apprentice there back in 1938. Mother and Father had begun to travel for the first time in their lives, making several trips by the Union Castle boats to South Africa and on the Holland-America line to the American West Coast. Therefore, the full responsibility of keeping Martin's profitable fell on Brian's shoulders into the 1970s. I remember the three-day week being particularly difficult and we didn't have a holiday for ten years over that period but it didn't seem to matter and we had good staff, who were very loyal. Brian joined the Southampton Master Mariners Club, known as the Cachalot's as a Messmate, despite being the only true Whaler in the Club.  Only Upper Deck were allowed to be full members in those days and he greatly enjoyed being able to have a game of snooker there occasionally! He also joined the Royal Southampton Yacht Club and the Southampton Rotary Club for the same reason, all of which brought us some good friends and a busy social life. Sadly in 1983 Brian suffered his first aneurysm from which he recovered very quickly but which led to other circulatory problems meaning he had to take a back seat physically in 1986. However, his brain was not affected and he remained very firmly in the driving seat mentally, albeit accepting the progress to computerisation very reluctantly, being convinced that the paperless office was a myth! He remained actively interested in all aspects of the company and relished his role as Chairman, calling the shots at the monthly and AGM meetings, still knowing exactly which questions needed to be asked! I do know, however that he was tremendously proud of our children and their achievements and I am proud to remain the current Chairman of Martin's Rubber."
Pauline Hooper, November 2005
Third generation: Adam Hooper
Adam joined the company in 1958 and is the current Managing Director of the manufacturing business. He shares some of his memories below:
My first memory of Martins was as a young boy around the age of 5, coming in through the factory door and seeing the men vulcanising together the corners on some very large extruded drydock gate seals (for Aden), and when I went to touch the shiny aluminium mould they were using I learnt my first lesson in the rubber trade, sometimes things are unexpectedly hot! Off to the first aid box and dressings on burnt little fingers………..My other memories of the early days are the two Bakelite telephones on the office desk, one for each line, the rotating stand with all the rubber stamps hung from it, and the smell of natural rubber which I associate to this day with my father coming home from work.
From the earliest times the business sparked my interest in engineering and manufacturing, and the creation of products from nothing by making new tools and machines to produce parts. My father took me out on his delivery runs to the Naval Dockyard and many other local engineering customers so seeing the parts we had made delivered to their customers which was fascinating as well; other slightly less happy memories being stuck outside the Cowherds Pub on Southampton Common for hours on end with just a bag of crisps while mum & dad had a drink after Saturday morning business finished at 12.00!
As I grew older I spent many hours during school holidays in the toolroom and around the factory, learning the use of machine tools under the instruction of Joe Kijanski with my grandfather Bert showing sometimes how not to do it, and this lead to me going to Southampton Technical College to gain a Production Engineering qualification, during which time I spent 3 summers as a trainee toolmaker with Kingsworthy Engineering, one of Martin's suppliers. I made a conscious decision not to join Martin's at that time in order to widen my experience, and instead went to Vero Electronics, a local manufacturer of metal 19″  racks & cabinets for the electronics industry. They taught me a lot about multi-site manufacturing, large company politics and international trade, as well as putting me through a Management Diploma course. After working there for 7 years the time seemed right to bring this experience back into the family business, and together with Paul and the senior staff we started looking at new avenues for the business to develop into. This was about the time when the Iron Curtain came down, and we were concerned to diversify outside the Defence sector, so when the opportunity to move into the CNC machining of hydraulic seals came along in 1990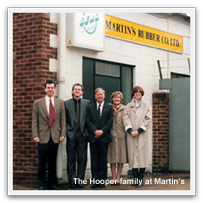 we decided to invest what was a very substantial amount of money for the company into this new technology; it was an exciting day when the truck turned up with our brand new machine, including the first computer the company ever owned.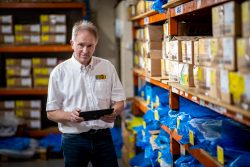 This and other investments in plant and resource allowed us to move through the £1m barrier in the 1990s and start to home in on the £1.5m, so it was a proud achievement when we cracked the £2m barrier much sooner than we anticipated. Looking back over the last 30 years the company has progressed out of all recognition; our technical expertise, plant, breadth of clients, international trade, Quality Control and  IT capability is lightyears on from where we were just a few years back. From the radical decision to buy a newfangled "fax" machine in 1986 to now taking for granted webcams, email, skype, drawing and machining in 3D, I feel that Martins are now at the leading edge of the appropriate manufacturing technologies required for the 21st century, rather than a somewhat stuck-in-the-mud traditional Rubber Moulder.
As a family business the Company exists to provide a secure future for all its staff and dependants and this ethos is the reason why we have always valued the longer term view; we aim for customer, supplier and staff relationships based on value rather than cost where in the long run everyone can move forward together rather than chasing a quick buck, and because we are not driven by short term financial pressures we can afford to invest for the future in ways that will provide increased security for all. While running a family business has its own unique pressures, it was a hope for our father that we would maintain and grow the business over our generation, and with plenty of his grandchildren around now, the opportunity is there for the next generation to take on the challenge if they wish, and it is certainly possible that a Hooper could be organising the 200th year celebration in 2065……….