How to make a rubber prototype?
Posted on 24/01/2020 Category: Product Design & Development Tags: rubber prototyping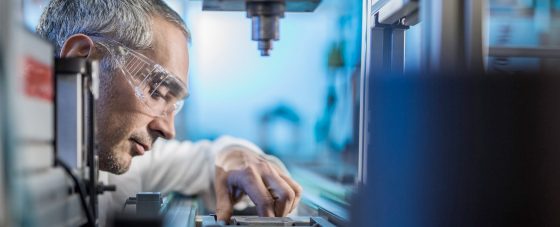 After more than 150 years at the forefront of rubber engineering, Martin's Rubber knows a thing or two about how to make a rubber prototype. We have developed thousands of prototypes over the years through a process of collaboration, CAD modelling and in-house tooling; saving customers precious time, money and effort in the process. In this article, we explain how we transform a rubber mould design into a physical working prototype.
What is a prototype and why is prototyping important?
A prototype is an early sample or model to test a concept or process before going to production. Prototyping is important in manufacturing because it allows for a collaborative testing process that ultimately eradicates any unforeseen – and therefore costly – errors. Naturally, it is far better for a rubber prototype to fail than a mission critical part like a seal to fail. The latter could endanger operations, personnel and machinery.
Working with an experienced rubber prototyper, like Martin's Rubber, from the design concept through to the point of production is the surest route to ensuring product and tool design is not only fit for purpose but also delivers on all your operational objectives.
How to make a rubber prototype
The first step towards making a rubber prototype with Martin's Rubber is to have a chat with you to learn about your application requirements. We will then review any drawings, samples or CAD models you may have developed at this stage and then our technical experts will suggest applicable materials and design traits to create a product that best meets your requirements.
We then employ 2D/3D modelling software, known as finite element analysis or FEA for short, to simulate the specific stresses involved in your application to assess the integrity and performance of the design. This low-risk, low-cost modelling process takes all the trial and error out of the manufacturing process and informs any physical prototype to demonstrate how your rubber mould design might look, feel and – crucially – perform.
Creating physical prototypes of your rubber mould design
At Martin's Rubber, we have a dedicated tooling department that allows us to be agile and responsive to your prototyping needs. We can design an effective mould tool for your specified rubber mould design using high-tech CAD and CAM software. We will adapt your 2D or 3D drawings and liaise closely with you until you are satisfied with the overall design, before developing a working prototype.
If you are operating under major time constraints, our prototyping experts can produce rapidly prototyped parts for you to handle and review before giving your final approval. This is where our vastly experienced tooling team and state-of-the-art techniques like 5-axis CNC machining come into their own to produce a pre-production part that meets your design and material specifications.
Why choose Martin's Rubber for your rubber prototype?
With 150 years of rubber industry experience to our name, Martin's Rubber combines superior in-house facilities, materials knowledge and innovative techniques to develop custom-made prototype parts. Building prototypes is as much about building collaborative relationships as it is about building functional products.
Our technical experts will listen to your needs, provide cohesive ideas and incorporate your feedback to produce rubber prototypes that accelerate the production process and maximise the performance of your product.
For more information about how to make a rubber prototype, please contact Martin's Rubber today on +44 (0) 23 8022 6330 or email [email protected].