How to make rubber mouldings the Martin's Rubber way
Posted on 21/08/2020 Category: Latest News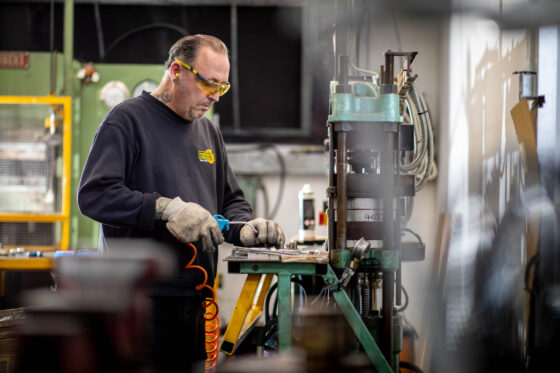 Martin's Rubber has been manufacturing market-leading rubber mouldings for decades. Having honed our expertise over more than 150 years, we're confident that our industrial rubber mouldings are the best that money can buy. Find out how to make rubber mouldings the Martin's Rubber way, as we explain the techniques used to mould the perfect products.
The combined power of heat and pressure will often yield transformative results. Coal, diamonds and natural gas are just three natural commodities that simply would not exist without their joint influence. Heat and pressure are just as important allies in the industrial world, especially for us here at Martin's Rubber.
Nowhere more so than in the production of rubber mouldings.
What is rubber moulding?
Rubber moulding is the process we use to develop custom and commercial rubber products. The basic principles of the production process are always the same. We mix a base polymer with raw ingredients to create the desired compound, which is then placed into a steel moulding tool and put in a moulding press.
The aforementioned dynamic duo, heat and pressure, are then applied within the press. This vulcanises the elastomer; a chemical process that effectively modifies the chemical composition of the material in question. We use this technique to create the rubber's ultimate physical properties, such as its tensile strength and elasticity.
How are rubber mouldings manufactured?
Of course, whilst the production process is broadly identical across all industrial rubber mouldings, the results vary considerably – depending on the application requirements and desired outcome. The selected compound, bonding technique and tool design are all variables that can significantly alter a rubber moulding product.
As does the rubber moulding technique. We use all three typical rubber moulding methods:
Compression moulding – Combining heat and pressure to mould rubber into a shape using a heated mould tool and the clamping pressure of a press.
Transfer moulding – Similar to compression moulding, except the rubber is preheated in a separate chamber and then forced into an enclosed mould cavity.
Injection moulding – The rubber is fed into a heated barrel, where it is mixed and forced into a steel mould cavity to cure and harden into shape.
Typical rubber moulding products
Martin's Rubber has been rubber moulding for more than 150 years. Over that period, the popularity and applicable applications for rubber moulding products have soared. The following examples are just a few of the types of industrial rubber mouldings we manufacture:
O-rings
Coupling bushes
High-impact buffers
Bearing pads and blocks
Drive coupling assemblies
Experienced rubber moulding manufacturers
Martin's Rubber has been developing first-class rubber mouldings since 1865 and our hands-on technical expertise ensures that we consistently exceed our customers' expectations.
Our range of on-site facilities includes materials development, finite element analysis (FEA) and CAD product design, which enables us to deliver the most technically advanced rubber mouldings available.
Contact Martin's Rubber today on +44 (0) 23 8022 6330 or email [email protected].