Manufacturing rubber products for manufacturers
Posted on 31/08/2017 Category: Rubber moulding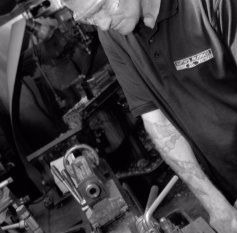 Are you looking for a rubber manufacturing expert who has plenty of experience in providing rubber products for the manufacturing industry? Martin's Rubber has been trading with manufacturers for almost 150 years and, as rubber manufacturers, we know exactly what other manufacturers require.
Manufacturing rubber products
Martin's Rubber has been manufacturing rubber products for the manufacturing industry for decades. As such, we can manufacture component parts to specification for assembly lines or as part of a complete solution, working with designers and engineers to assist in the creation of a product that works for you and your end user and is suitable for volume production.
We work closely with you to agree on a suitable delivery schedule, and use intelligent forecasting to ensure availability of stock. As manufacturers ourselves, we are critically aware of the importance of production builds and the negative implications of downtime. So, whether you require seal kits or eye shields, armadillo covers or bellows, we will endeavour to deliver on time and on budget, as well as keeping you informed at all times.
What we can offer when creating products for the manufacturing industry
As a rubber products manufacturer, we take great care in ensuring that all factors are taken into account when rubber manufacturing for the manufacturing industry. Some of these factors include:
● Ensuring your scheduled delivery date is met.
● Exploring all manufacturing processes to determine the optimal process for your chosen rubber product.
● Choosing the most cost-effective method for you and your budget.
● Exploring all materials to ensure your rubber product is able to withstand the environments it will be exposed to.
● Working with you to fulfil the requirements of your custom-made rubber solution.
● Our stock holding management system enables us to be fully aware of production capacity at all times.
● Using FEA analysis prior to creating your rubber product, saving you time and possibly money.
Contact Martin's Rubber today
Our customers are spread across all areas of industry. We have supported a wide cross-section of manufacturers over the years, from print equipment manufacturers to producers of fire suppression equipment. We can make up kits of parts, seals and moulded items to name but a few. We can also bag and label parts individually and brand them according to your business' identity.
For more information about the rubber manufacturing process here at Martin's Rubber, or about our complete range of products and services, please give us a call on 023 8022 6330 or email [email protected].
The post Manufacturing rubber products for manufacturers appeared first on Martin's Rubber Company.