Martin's Rubber explains Industry 4.0 for small businesses
Posted on 27/04/2018 Category: Rubber Industry News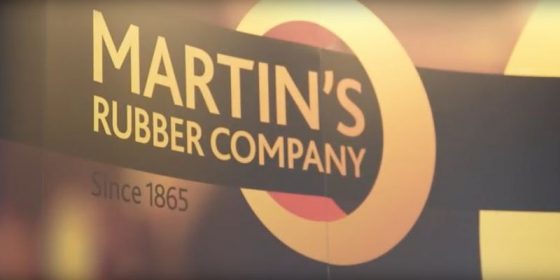 The first industrial revolution was born from the desire to increase productivity through the use of steam power and the introduction of the factory environment. Second came a phase of rapid industrialization through the widespread adoption of gas, water, rail networks and, most importantly, electricity, which brought about assembly lines and the beginnings of mass production. Then, third, the introduction of Information Technology. Computers allowed robots and machines to begin replacing humans on our assembly lines. Now, we are within the fourth industrial revolution: Industry 4.0. Here, Martin's Rubber gives you a clear definition of Industry 4.0 and explains exactly what this could mean for your business.
What is Industry 4.0?
Industry 4.0 is the fourth era of technology. This latest revolutionary change in computing and automation is resulting in the increase of remotely connected robotics and computer systems learning machine algorithms and controlling industries with minimal human interaction. The cloud and cyber-physical systems have contributed to the creation of "smart factories".
Industry 4.0 for small businesses
There are many interpretations of the Industry 4.0 definition. If you hear Artificial Intelligence, automated robots and machine-to-machine learning and think of far-future sci-fi scenes, then you aren't alone. The advances in modern day technology are progressing at a rate never seen before, and it is important to embrace, or, at the very least, acknowledge, that the standards of production processes are being raised.
Some smaller manufacturers do not see technology advancements as a priority or do not have the time and resources to invest in such digitisation. Certainly many are reluctant to commit their budget to technology that they cannot see an immediate return from, or do not have the skill sets within their staff to implement such technologies. Workers may become concerned about job losses and so the management of any implementation has to be carefully approached.
In order for all manufacturers, including SMEs, to compete at either a global or local level, however, technological advances will have to be embraced in order to enable more efficient, responsive and accurate production and greater control over operations. Efficiencies will ensure the long-term survival of a business and, if we stand still for too long, we will be overtaken by those businesses who have committed to the change and evolved to the next level.
What is Industry 4.0's impact on workers?
What does this mean for your workers? Job security is always a fear when new technological advances arise. From robots in factories, to self-service checkouts in supermarkets, it can appear that technology is replacing the need for human workers.
While the industry should definitely be prepared for some job losses, the pandemonium that the media have promoted is an exaggeration. Smaller firms, who currently spend a huge amount of time and money on practical work like paperwork, supervision and manual operations will be in the position to concentrate on running the factory and controlling the supply chain. As a result, productivity levels will rise and so will profits and revenue. Boosting productivity will allow firms to take on higher work levels, secure more contracts and expand – creating more jobs in the long run. The challenge from now will be addressing the skills gaps that these new technologies inevitably create.
Industry 4.0 is a complex topic with a number of areas of technological development in an increasingly connected world – with a whole range of implications for SMEs. Like many of our contemporaries, we are addressing the world of Industry 4.0 in order to secure our future; you may find that our Industry 4.0 YouTube videos can provide some answers your questions.
How has Martin's Rubber embraced Industry 4.0?
At Martin's Rubber, we have implemented Industry 4.0 technologies into our business by implementing ERP, MRP, SFDC and CRM software to support our manufacturing processes. Many of our shop floor workers have minimal software experience, so we have opted for user-friendly interfaces. The changes we have made (and are still making) have been received more positively than any other software that has been previously implemented, as workers have noticed the benefits immediately. We are more in control of our business than we have ever been, with live business intelligence at our fingertips and the facilities to service our customers better than ever before.
To find out more about how we have adapted to Industry 4.0 techniques, and how these new strategies benefit your products and business needs, call our technical experts on 023 8022 6330, or email [email protected].
For more information, watch our short video on how Industry 4.0 has changed manufacturing at Martin's Rubber.
The post Martin's Rubber explains Industry 4.0 for small businesses appeared first on Martin's Rubber Company.