What are CNC machining services?
Posted on 09/08/2016 Category: Technical Features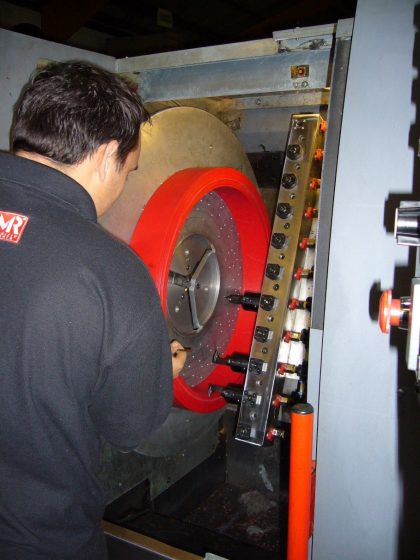 In order to produce an extensive range of engineering plastic products, in a small to medium volume for a wide range of industries, Martin's Rubber processes these types of products through Computer Numerical Control (CNC) machinery. The main purpose of this machinery is to improve the efficiency and accuracy of manufacturing processes for plastics and elastomers, and avoids the need for dedicated tooling for each product.
What are CNC machining services?
The way CNC machinery functions is by a computer controlling a specific machine tool through numerical control. Each cutting tool in the manufacturing process requires its own CNC program. The CNC machinery will appear to look like a normal computer, however, it will have a program that is customised for an object, which the computer will be programmed to generate through functions using G codes to drive the encoders that move the slides and tools of the machine to very precise positions.
In simple terms, G code is the CNC machinery language that controls a range of features including: location, speed, coordination and feed rate of the specific manufacturing cutting tools of that specific computer controlled machining centre.
Avoiding complications of CNC machining services
To avoid any complications when the CNC machinery has been programmed, we go through a step called 'cutting air', which is basically a trial run to ensure that there are no errors with the machining strategies that have been set up to generate the features of the part.
Alternatively, we used on-screen simulation in our offline programming package "Hypermill" to confirm that the programmes written will deliver the expected result. These are steps that we go through as any mistake with speed and tool position could result in an unexpected move, and thus damage to the machinery or to the end product.
Advantages of using CNC machining services
CNC machining services have many advantages concerning the process of manufacturing wide ranges of products, including:
More precise than manual machining.
Designed to replicate the same process over and over again.
Has the ability to produce complex shapes.
Is capable of producing complex three-dimensional shapes.
Is able to work at a faster speed than manual production.
Does not require dedicated mould or die tooling to make a part.
Our CNC machinery services
Here at Martin's Rubber, we use cutting edge CNC machinery services, to manufacture a wide range of standard and bespoke products in engineering plastics and elastomers. In more detail, we use the following CNC machinery services.
EMCO slant bed lathes
We use CNC lathes to machine components from pre-moulded billets, and using state-of-the-art CAM software a very large product size spread is possible, up to 1m diameter. They are designed to have a range of standard profiles that apply to specific application conditions and complimentary ranges of materials are available in pre-moulded standard sizes. We also custom program specific shapes for clients, and stock exotic grades of material to deliver extreme performance for special products.
Bridgeport VMC1000 3 axis milling
Using our large 3 axis facility allows us to produce solid body components in a wide assortment of engineering plastic and metals. Thanks to our CNC machinery services, we are able to offer competitive prices and lead times for mould tooling and machined plastic parts whilst also offering small batch sizes and of course maintaining high quality.
Deckel Maho DMU50 5 axis milling
Our Deckel CNC 5 axis machinery services give us the ability to produce complex, three-dimensional shaped products to meet the needs of our customers who require aerodynamic or organic surfaces on their products. This service is particularly useful when working on a variety of planes around a shape, or combining cutting strategies to deliver complex geometry.
Hypermill Software
Using hypermill software, in conjunction with Solidworks, allows us to programme our moulding tools offline to develop our mould tool designs. This feature of CNC machining optimises our performance, as we are able to design and assess the tool for full functionality and ease of manufacture. The resulting tools then deliver the best possible products in a short amount of time.
For more information about our CNC machinery services, please contact us on +44 (0) 23 8022 6330 or email [email protected].
The post What are CNC machining services? appeared first on Martin's Rubber Company.