The importance of rubber prototyping
Posted on 21/04/2019 Category: Rubber gaskets, Rubber Industry News, Rubber moulding, Rubber sheeting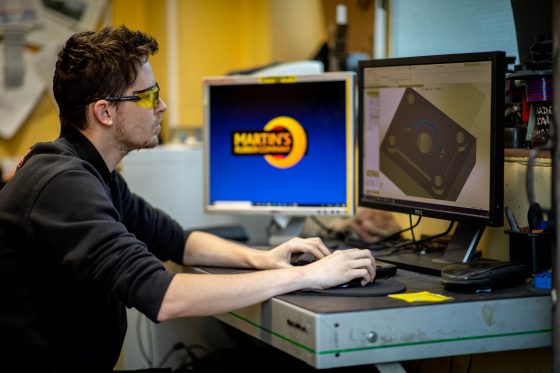 To prototype or not to prototype? In the case of rubber product development, there is no question. Prototyping in rubber offers unparalleled insights into the real-world performance of a given design and its material composition. In this blog, Martin's Rubber explains how testing and prototyping services for moulded rubber products, such as non-linear finite element analysis and Rapid Manufacture, deliver a time-, cost- and aggravation-saving solution.
What is rubber prototyping?
The word prototype derives from the Greek term "prototypon", which roughly translates as "primitive form." In the rubber product development process, developing a primitive form of the end product is an essential element of the production process. Testing the efficacy and functionality of a design at the conceptual stage offers ample time and cost savings prior to going into full production.
The importance of prototyping in rubber
Prototyping parts from rubber or flexible elastomers like silicone enables you to confirm the desired rigidity of a material before production tooling is produced. Gaining a deeper understanding of a part's functional performance, based on the environmental parameters associated with its intended application, is imperative to reduce costly errors and reworks later in the production stages. Therein lies the distinct advantage of prototyping in rubber; it speeds up the design process, mitigates risk and maximises your budget.
How does prototype rubber moulding work?
Before we even produce a prototype rubber moulding, our experts can employ dynamic 3D modelling, called non-linear finite element analysis, to assess how a design and a particular choice of materials are likely to perform under stress. Customers can glean a wealth of insights from this data, enabling them to make an informed decision before committing to a final design – a process that can save considerable time, money and wasted effort in the long run.
Alternatively, if a physical prototype is preferred, Martin's Rubber can certainly oblige. In all such cases, we can manufacture a small pre-production batch using a low-volume tool. The advent of 3D printing (or additive manufacturing) heralded new opportunities for Rapid Prototyping. Resin-based prototypes, including complex organic shapes that would otherwise be beyond the scope of traditional casting and moulding techniques, can be produced quickly.
Both of these aforementioned techniques have their merits but also their limitations. Rapid Manufacture combines both of these concepts for the ultimate solution. Using Hypermill CAD/CAM software and Rapid Machining centres like the DMG DMU50 5 axis range, we can now manufacture a real mould tool in a much shorter lead time than before. This allows us to manufacture the real product in the real material, which gives customers the most complete picture of how their rubber moulded product is likely to perform.
Prototyping services for moulded rubber products from Martin's Rubber
Martin's Rubber is an expert in the design and manufacture of cost-effective rubber moulded solutions. We are adept at handling low volume, specialist orders requiring standard or custom prototype rubber mouldings and bespoke projects. Using advanced production facilities, including injection moulding and compression moulding machines, we can produce prototype products ranging from a fraction of a gram up to 5 kg in weight.
Speak to a Martin's Rubber technical expert today to find out more about our prototyping services for moulded rubber products on +44 (0) 23 8022 6330 or email [email protected]
Other stories in this category: