What are the different types of rubber moulding?
Posted on 01/07/2020 Category: Rubber moulding Tags: rubber injection moulding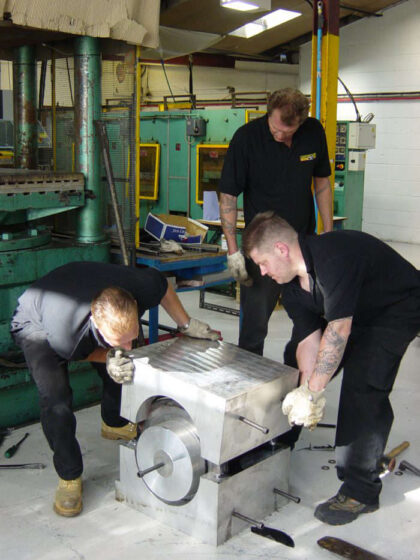 Rubber moulding is a process that takes raw rubber compound and creates a final product in the desired geometry. As an elastomer is a polymer with naturally elastic properties – meaning the moulded item will easily go back to its original shape after pressure is applied – they are frequently used in industrial applications. There are several different types of rubber moulding processes, each with unique advantages. Within this article, we discuss the different types of rubber moulding and detail what exactly they are and why they are used.
What are the different types of rubber moulding?
When undergoing a moulding process, it is important to choose the correct compound and manufacturing process to achieve the desired end result. By choosing the right kind of moulding process for your application, you are ensuring optimum performance levels and cost-effectiveness.
There are three commonly used different types of rubber moulding:
Rubber injection moulding
Transfer moulding
Compression moulding.
What is rubber injection moulding?
Created as an extension of the plastic industry in the 1960s, rubber injection moulding is a process where a heated rubber compound or material is injected into a closed mould under high pressure.
The rubber injection moulding process can be performed with a range of rubber materials, including silicone, neoprene, nitrile and EPDM, and has enabled manufacturers to create a variety of moulded rubber products.
Advantages of rubber injection moulding
There are a range of benefits that come from rubber injection moulding, such as:
Minimal material wastage
Fast cycle times
Fast production time
High dimensional tolerances.
Disadvantages of rubber injection moulding
While there are many benefits of using the rubber injection moulding, as with most manufacturing processes, there are some disadvantages:
Increased setup costs
Restrictions on the design of the tool and ultimately the finished part
The requirement of more expensive tooling and machinery.
What is compression moulding?
One of the original and simpler moulding processes, compression moulding works through the combination of heat and pressure to mould rubber into the shape of the metal tool.
The rubber is shaped using a heated mould tool and the pressure of a clamping press. The curing – or vulcanisation – process occurs before the removal process of the final part and cooling.
Advantages of compression moulding
Low levels of wastage
Simpler tooling and more cost-effective when compared to injection moulding
Most suitable for parts with a large cross-sectional area
Greater capacity to process stiff, high durometer materials.
Disadvantages of compression moulding
More difficult to maintain consistency of finished parts
Slower processing times.
What is transfer moulding?
Last, but not least, we have transfer moulding.
The transfer moulding process starts with the raw materials being prepared as 'pre-forms' that are then inserted into a pot internal to the mould tool. The mould is then forced through a runner and gate system and then vulcanises upon the introduction of heat and pressure.
This process is similar to injection moulding since the rubber goes into the cavity after the mould is secured.
Advantages of transfer moulding
Transfer moulding is more accurate and consistent than compression moulding
There is a short manufacturing phase than compression moulding because multiple cavities can be used
Disadvantages of transfer moulding
There is more chance of material wastage
Inserted transfer moulding tools require repair time, removal, and reset maintenance
Designing of the intricate moulds can be costly.
Rubber moulding with Martin's Rubber
Ultimately, making the decision about which rubber moulding process is best for your application is largely dependent on the cost, time, and volume pressures. No one of the processes mentioned above is better than the other; they are all applicable depending on your requirements.
Here at Martin's Rubber, we have 150 years of experience in the industry and our team of experts are able to provide the correct guidance and advice on which technique is best suited to your application.
For more guidance and advice on which rubber moulding technique is best suited to your requirements, contact us on +44 (0) 23 8022 6330 or email [email protected].