FAQs page – rubber and rubber materials
Posted on 27/06/2019 Category: Rubber gaskets, Rubber Industry News, Rubber moulding, Rubber sheeting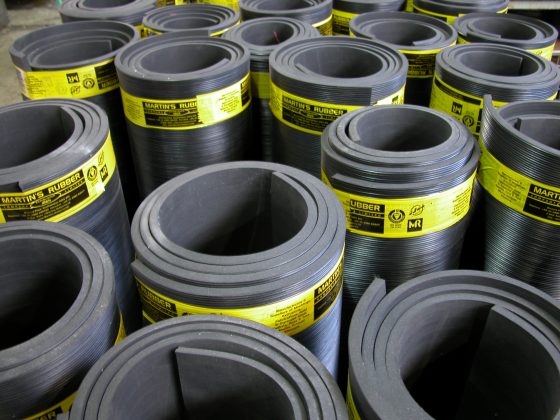 Q. What is rubber fatigue?
Rubber fatigue refers to the wear and eventual failure of a rubber component. This is due to the material being worn down over a period of time which can cause catastrophic problems. It can cause machine failure, unforeseen downtime and can even compromise the safety of your workforce.
Q. What kind of things can cause rubber fatigue?
Environmental conditions are usually the main offender. Temperature, pressure and machine wear can be problematic for applications exposed to them for long enough. Higher temperatures have an effect on crack nucleation life. Fatigue life will also drop if the surrounding temperature is raised from 0 degrees to 100 degrees Celsius. Oxygen also causes rubber fatigue – lowering the fatigue crack growth rate.
Q. What is a fatigue testing machine?
A fatigue testing machine works to replicate the kind of stress and strain that the rubber will encounter when out in the field. It takes into account weight or pressure that the rubber will come into contact with under, along with temperatures (both high and low) and strain that would cause it to stretch. It helps to assist in the decision about decide the kind of rubber that is needed for a customer's application.
Q. Do you have a fatigue testing machine on-site or would a customer have to go elsewhere?
This would depend on the requirements of the rubber component in question. We have a number of Finite Element Analysis (FEA) facilities on-site as well as the facilities to run material tests and to replicate service conditions. , but could just as easily use one of our partner testing houses if required. If testing outside of our own scope is required, we have relationships with test houses.
Can the fatigue of rubber be reversed?
If the fatigue has been caused by ageing due to oxygen, then the process cannot be reversed. The properties within the rubber change beyond repair, meaning that a whole new component would have to be created from scratch manufactured. When it comes to fatigue due to extreme weather conditions, it depends how far a client leaves their component to continue to wear down before trying to resolve the issue. Eventually, the effects would be irreversible, but if they are seen very early on there is a chance we will be able to repair it. is the potential for repair.