What rubber materials can withstand high heat?
Posted on 24/06/2020 Category: Technical Features Tags: rubber materials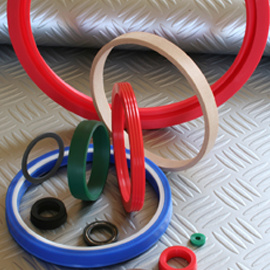 Excessive heat can gradually degrade rubber materials, leading to deteriorating performance and premature failure. As such, high-temperature applications require high-temperature-resistant rubber products that offer dependable performance no matter what. In this article, Martin's Rubber provides our guide to the best extreme temperature rubber materials available.
Natural rubber should not be used in applications with continuous temperature of above 85 °C. For some high-temperature applications, that simply isn't high enough. However, certain synthetic grades of rubber have been chemically engineered to deliver superlative heat resistance in excess of 300 °C.
Here is our guide to five of the most impressive high-temperature-resistant rubber materials that we use here at Martin's Rubber. For more in-depth information, please consult our material properties guide.
Silicone
Silicone is the number one extreme temperature rubber available. It offers outstanding high-temperature resistance, with some compounds able to withstand temperatures up to 305 °C. Although suitable for applications involving exposure to UV, ozone and weathering, silicone is not recommended in use with specific temperatures and may not always offer the mechanical properties required.
Silicone is not a high strength material and tears easily. Having said that, we have special compound grades that deliver better tear resistance than standard silicone. Fluorosilicone also offers high-temperature stability, but with added chemical resistance.
FKM (Viton®)
FKM is a family of fluoroelastomers commonly referred to by DuPont's Viton® brand name. FKM is an excellent high-temperature-resistant rubber, which retains its good mechanical properties and chemical resistance (oils, fuels, lubricants and most mineral acids), even at extremely high temperatures.
Products moulded in FKM remain elastic when exposed to air oven ageing up to 205°C or intermittent exposures up to 316 °C. Commonly used in O-rings and other moulded or extruded products, this extreme temperature rubber also provides the best fluid resistance of any commercial rubber.
CSM (Hypalon)
CSM (CSPE in the US) is another synthetic rubber best-known by its now-defunct DuPont brand name, Hypalon. Chlorosulphonated polyethene rubber, to give it its chemical name, offers excellent resistance to dry heat up to +120 °C.
CSM also provides excellent resistance to ozone, UV, weathering and corrosive chemicals when cured. CSM exhibits good electrical properties, low flammability and low gas permeability. However, this high-temperature-resistant rubber material offers relatively poor fuel resistance and low compression set.
HNBR
Hydrogenated acrylonitrile-butadiene rubber (HNBR) is a unique elastomer that is derived from conventional nitrile rubber through the hydrogenation of unsaturated bonds in the butadiene. HNBR is an exceptionally high-temperature-resistant rubber that can withstand much higher temperatures than conventional nitrile up to +150 °C.
HNBR also offers excellent resistance to oils, fuels, many chemicals, steam and ozone, as well as exceptional tensile and tear strength. It also offers good abrasion resistance. However, this particular extreme temperature rubber is relatively expensive and incompatible with aromatic oils or polar organic solvents.
EPDM
Synthetic rubber, ethylene-propylene-diene monomer (EPDM), is a copolymer of ethylene, propylene and diene monomers. This synthetic high-temperature-resistant rubber offers excellent heat resistance, performing optimally up to +150°C. It also delivers excellent tear, abrasion, steam and compression set resistance.
While resistant to dilute acids, ketones and alkalis, EPDM rubber offers poor resistance to petroleum-based fuels, most oils and non-polar solvents. EPDM is often used as a lower-cost polymer thanks to its many favourable characteristics, especially its heat-resistant properties.
Speak to a technical expert at Martin's Rubber today to ensure you select the right high-temperature-resistant rubber material for your application. For more information, contact us on +44 (0) 23 8022 6330 or email [email protected]