What is a wiper seal?
Posted on 21/09/2015 Category: Technical Features Tags: Scraper seal, Wiper scraper seal, Wiper seal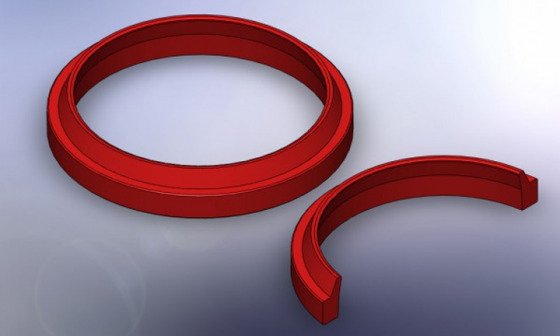 Want to learn more about wiper seals? Take a look at this handy guide that gives you everything you ever needed to know about these highly functional rubber seals.
A wiper seal is one of those vastly underrated – but extremely functional – rubber components that quietly go about their business without much pomp or ceremony. We think they're well worth getting to know though, which is why we've compiled this handy reference guide to bring you up to speed.
So what is a wiper seal?
Wiper seals (also known as scraper seals or wiper scraper seals) are axial seals that form a tight fit while still allowing a reciprocating ram rod to pass through the seal's inner bore. Wiper seals are commonly installed in hydraulic cylinders to scrape dirt, chips or moisture from the piston rods as they retract into the system. Thus, they prevent any contamination that could potentially damage wear rings, piston seals and other components further inside the system.
What are wiper seals used for?
Wiper seals are commonly used to prevent dust, debris and moisture from entering the gland housing of a sealing system. Any foreign body entering the seal housing can damage the rod, cylinder and even other seals that operate within the system; with expensive and sometimes dangerous results. Wiper seals are often used for fluid containment and to prevent dirt from entering a reciprocating shaft mechanism. Typically used on hydraulic and pneumatic cylinders, wiper seals can also be found in the telescopic suspension forks of motorcycles and bicycles.
Choosing the right material for your wiper seal
When choosing the right material for your wiper seal it is important to take environmental conditions into consideration. At Martin's Rubber, we can provide a range of clip-in, multi-step wiper seals that use an interference fit on the rod. This gives an accurate closure and therefore a reliable seal to protect against dirt and dust, while still allowing backflow of residual oil film. They are supplied in a range of rubber and engineering plastic materials that are specially chosen for the operating conditions they will see; let us know where your wiper scraper seal will be working and we will advise the best material for the application..
Martin's Rubber has proven wiper seal expertise
Here at Martin's Rubber we can supply a range of wiper seals which conform to British Standards, from A101 right through to A119 styles. These can be rapid manufactured in a variety of different materials, depending on your application. Plus, we also stock standard products for immediate shipment. Whether a bespoke or standard wiper seal is used, it is often these inconspicuous seals that actually deliver long term reliability to any hydraulic or pneumatic system, simply by preventing the premature wear of other seals within the system, contamination of the hydraulic fluid or compressed air, and corrosion or excessive wear of any metallic parts of the installation. This is where vast improvements can be made to industrial processes, transportation reliability, excavator endurance, or indeed any of the myriad of places where rams and seals are an integral part of a process. Contact one of our expert advisers today on 023 8022 6330 or email [email protected] and we'll help you to find the best possible rubber or engineering plastic solution for your particular needs.
The post What is a wiper seal? appeared first on Martin's Rubber Company.