Hammerson's 70 million pound WestQuay development in Southampton gets go ahead
Posted on 25/07/2013 Category: Rubber Industry News

Southampton City Council has approved Hammerson's 70 million pound development, which will bring more visitors and residents to the area. According to constructionenquirer.com, the first part of the 950,000sq ft development, which will be built on an unused brown site, will offer residents a 14 screen cinema and around 15 restaurants and shops. The second part of the development will include a residential tower, a hotel, office spaces, restaurants and a public space, reports cnplus.co.uk. The residential tower will overlook the water and be 24-storeys high. Now that the plans have been approved by Southampton City Council, the firm says that final designs can now begin, ready for the first phase of development.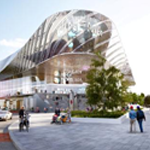 Guy Wells, Hammerson development manager, said: "We have been extremely encouraged by the support we have received during the planning process and following the determination of the application we will now begin work on our detailed designs for the first phase." The development will be situated next to Southampton's WestQuay shopping centre, which was also developed by Hammerson. WestQuay shopping centre is hugely popular, bringing in around 17 million shoppers a year and it's due to get bigger soon, thanks to a 7 million pound extension, which will be dedicated towards restaurants. Author: Laura Varley Date: 26 July 2013
The post Hammerson's 70 million pound WestQuay development in Southampton gets go ahead appeared first on Martin's Rubber Company.