Exceptional elastomers… can they stretch to magic?
Posted on 18/10/2015 Category: General Martins Rubber blog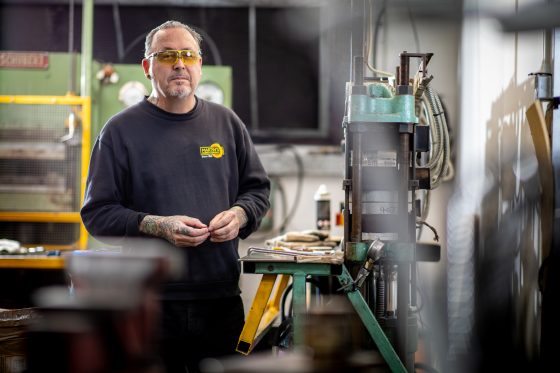 We spend a lot of our time talking to businesses and engineers at the forefront of product development, those who are pushing material technologies to their limits. There is often a common theme running through the line of questioning in our direction:  "Tell me about recent innovative developments in elastomers and how it can help to solve our problems".  Digging deeper into the current wishlist from cutting edge engineers and designers, those requests include:
Temperature (both extremes, and a very fast switch between upper and lower temperature)
Contact with multiple complex chemicals
High and low friction requirements
Excellent rebound characteristics
Exceptional damping
Thermal conductivity
Electrical insulator or conductor
Safe for potable water
Withstand degassing in vacuums
Acoustically transparent
Radar transparent
Biodegradable
Lifespan of 50 years in deep sea water
Odour neutral
Of course all (well, most) of these properties are achievable – but many of our discussions result in a wishlist that contains at 3 or 4 of these items that, predictably, have been until recently mutually exclusive.
Is there a magic rubber?
It would be easy to assume that, given the 150 years which have passed since the original 'discovery' of the vulcanisation process, science would have delivered an ultimate rubber that does everything well.  However, understanding the complex chemistry that gives elastomeric polymers their unique and remarkable characteristics has delivered an ever-increasing development headache to those researchers in the field of polymers, in that the range of materials and capability constantly expands, but without one ideal universal solution. Sadly for the world of manufacturing, in 150 years of continuous research into rubber and rubber-like materials, no-one has even begun to come close to developing "Magic Rubber" yet, at any price.
If I can't have Magic Rubber, what can I have?
"Viton®" remains one of the best-known trade names for a high-performance synthetic elastomer, and is often used by designers and engineers as the default material for demanding environments.  However, it is not a "Magic Rubber"; fluoroelastomers such as Viton® have excellent properties under some, but not all, conditions – for example, they are not good in steam applications. We also see the opposite end of the spectrum; if the application is one that Viton® can satisfy, it may actually be over-specified and a cheaper polymer might be just as effective. Therefore, one of the most important questions Martins Rubber asks is "do we understand the customer expectations and application?" The environment in which the rubber is working, regulatory or certification requirements, packaging and shelf-life requirements all contribute to the decision on appropriate material selection and manufacture method. Long experience in a wide variety of industries and applications helps us to pre-empt relevant questions, in order to arrive at a recommendation for the most suitable material for the application. This initially involves proposing the optimum polymer type based on their general characteristics (see our compatibility guide) and then further refining the requirements for hardness and other physical properties such as temperature operating range, fluid resistance, tensile strength, elongation at break, compression set etc. as we find out more about the specific application. Our specialisation in Nonlinear Finite Element Analysis can help predict the expected performance and thus improve the chances of getting the solution right first time.
Standard materials won't meet my needs, what next?
If a standard material will not fulfil a particular application, then a custom compound must be designed, often in order to combine several properties not found in any one standard polymer. In this sense, a bespoke rubber blend is formulated specifically for the application, by our Technical team working in conjunction with our compounders. Properties such as high or low temperature performance, resistance to specific chemicals, the addition of fibre reinforcement, electrically conductive materials, low friction or high wear can be enhanced by additives and are some of the attributes that are boosted in this way. Specific material or product testing is also designed and implemented as required, in order to warrant the particular performance necessary to meet the requirements of the application. It is therefore important to understand that while you cannot have a universal "Magic Rubber", unlike most other material families, "rubber" is a very adaptable and customisable commodity that is extremely versatile, but must be correctly specified for success.
What innovative elastomeric materials are available?
We are constantly searching for materials and innovative composite solutions that will address real-world problems that our customers and markets face. Our Oil & Gas customers have ever tougher requirements for extreme chemical resistance, and in conjunction with our compounded, we have brought "Swelling Rubber" into that marketplace, as a key component in novel downhole drilling techniques. Our Motorsport customers seek ever-lower friction seals, better-damped rubbers for vibration control, and thermally conductive rubbers for heat dissipation, while our Aerospace customers push for very wide temperature ranges and very long service intervals for components. They all seek lighter weight, combined functionality of assemblies, and ever more economic functionality. To help achieve this, we routinely bond rubber to all kinds to other substrates such as engineering plastics like PEEK, PTFE and Tufnol as well as all metals including titanium, and composites such as carbon fibre and structural foam. Our novel material combinations and processing skills have replaced inferior materials with fully tested Aerospace approved products at less weight, and produced very large, lightweight accurate low friction seals for Motorsport, increasing reliability, endurance and performance. There is great potential in these hybrid solutions, and opportunities to combine a number of parts into a simpler assembly.
In terms of pure R&D, we have developed materials that are fully devulcanised rubber recycled from cured parts, suitable for manufacturing brand new components, and we are actively working on projects where graphene is intended to modify the characteristics of the rubber in novel, useful ways. Currently, however, none of these avenues appears to be taking us towards that utopian "Magic Rubber", but there is no doubt that true rubber is here to stay – the constant drive to find the limits of this family of materials is fascinating, and the boundaries are constantly moving as innovations from academia and industry drive us forwards. Viton® is a registered trademark of DuPont.
The post Exceptional elastomers… can they stretch to magic? appeared first on Martin's Rubber Company.