Honda to build racing operations base in Britain
Posted on 14/07/2013 Category: Rubber Industry News

Japanese car manufacturer Honda is to build a new European racing base in Britain as it prepares for a return to Formula One, reports sport.co.uk. Honda announced in May that it would become an engine supplier to British team McLaren in the 2015 season, reuniting an alliance which dominated the sport between 1988-1991. Driven by an all-star partnership in Ayrton Senna and Alain Prost, the McLaren-Honda vehicle stormed to four consecutive titles during this period (Senna claiming three) before the Japanese manufacturer pulled itself out of F1 a year later. The company has made numerous returns to the sport since, but was on an eight-year hiatus when the latest deal was struck. Knowing that communications with McLaren will have to be spot on during the development of their car, Honda has decided to build a new facility in Milton Keynes to be close to its new partner.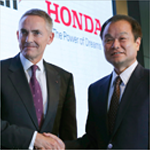 Cited by theage.com.au, Honda says the factory will "rebuild and maintain" the power units at the company's HQ in Japan. The company went on to say: "The UK is an ideal location; it is the home of McLaren, many F1 suppliers are UK based and with seven of the 19 races taking place in Europe (in 2013)." It's thought a recent change in F1 rules for engine suppliers, aimed at making the sport more green, has played very much into Honda's hands. The manufacturer has reportedly welcomed the decision to have makers produce more environmentally friendly turbo engines as the same technology can be transferred to its commercial vehicles.
Author: Richard Towey
Date: 15 July 2013
The post Honda to build racing operations base in Britain appeared first on Martin's Rubber Company.