How is rubber Vulcanised? The chemistry and history.
Posted on 10/12/2014 Category: Technical Features Tags: Vulcanisation, Vulcanization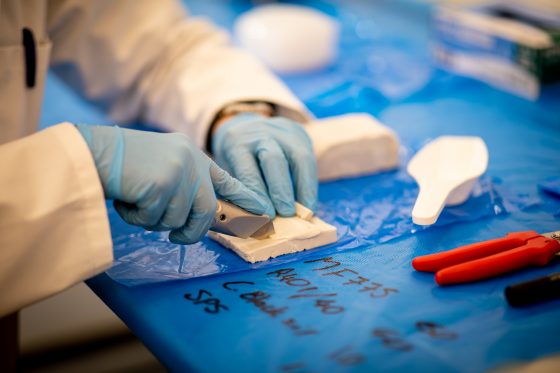 In order to understand the answer to the question "How is rubber vulcanised", we need to look at both history and chemistry.
Rubber was first observed by European explorers in South America in the 1520's by Cortez but was not studied there until the 1600's and was finally brought back to Europe in the 1750's when various people experimented with its properties. The native Olmec people were known to have used boiled sap from the rubber tree hevea brasiliensis combined with a vine sap to make a stretchy and waterproof material they used for proofing clothing items for some 3000 years. These items, along with the rubber balls observed by the Europeans, were made of a "rubber" that was not truly cured however, and either degraded with heat or went hard in the cold. The first use of this material when imported to Europe was to rub out lead pencil marks on maps and charts, hence the name "rubber", which became "India Rubber" over time. However, it was the waterproofing properties of rubber that were clearly very useful and in the 1820's Charles Mackintosh in conjunction with Thomas Hancock refined the ancient Olmec process by chipping rubber and dissolving it in benzene. Then with heating, they developed the ability to produce rubber sheeting on a large scale for the first time, including what became the famous Mackintosh rubberised waterproof fabric, from which the founders of Martins Rubber Co were fabricating garments and tarpaulins and selling here in Southampton in the 1840's. However this fabric still went stiff in the cold and too soft under heat, and any stitched holes leaked; but whilst trying to solve these problems, they came across samples sent from the US by Charles Goodyear.
Goodyear had also been trying for years to use rubber in a variety of ways in inventions, and with the more extreme weather in Massachusetts, the poor thermal stability of the uncured natural rubber was an even greater problem for garment makers. He had been asked by a local waterproof material manufacturer to find a way of heat stabilising rubber, but despite building on earlier work by Hayward on sun drying rubber treated with a sulphur solution called solarisation, success eluded him. That was until one day, reputedly by accident, he dropped a sheet of fabric infused with rubber, sulphur and white lead onto a hot stove. He was astonished to see that rather than melting, the fabric had hardened into a permanent flexible state, and was far less affected by extremes of heat than it had been. Further experimentation confirmed that the combined rubber and sulphur when placed in a steam oven under pressure, cured to form a stable material that had good mechanical properties. Unfortunately, taking out a US patent on his process sent him to the brink of bankruptcy, and it was this that caused him to send samples to Hancock and Mackintosh, in the hope of making money in the bigger European market. Sadly for Goodyear, Mackintosh analysed the samples and determined that sulphur was the key to the process, then quickly replicated and improved on Goodyear's work, and took out a British patent before Goodyear could respond. It was Mackintosh who named the process "Vulcanisation" after the Roman god of Fire, and although Goodyear died penniless in 1860, his surviving children did become very wealthy thanks to proceeds from the US patent, with US rubber companies using the Goodyear name to this day. Mackintosh and Hancock further developed their materials and processes to be able to make vulcanised seams on a range of waterproof, heat stable clothing, these iconic products soon becoming known as "Macks". So, what is the chemical process that Goodyear discovered by accident, and which became known as Vulcanisation thanks to Mackintosh? Going back to the original "Para" rubber tree, the natural latex sap that is tapped from the tree contains many isoprene molecules, and as the latex dries out, the isoprene molecules crowd closer together until one molecule attacks the carbon-carbon double bond of an adjacent molecule; the double bond breaks and the electrons reform to create a bond between the two isoprene molecules, becoming a monomer. This process continues until many isoprene molecules have joined together, their inherent structure creating long strands or chains of monomers rather than homogenous clusters; materials with these repeating chains of monomers are called polymers, of which natural rubber is one. The aggregation of these monomer chains of isoprene is called polyisoprene, a formal polymer. The polyisoprene strands are stuck together by forming electrostatic bonds, which in turn allow the strands to move relative to each other when pulled, and return back to their original state when relaxed. So how is rubber vulcanised if it already has a degree of natural elasticity in its polyisoprene state? What Goodyear had discovered was the effect that sulphur has, under the right conditions of temperature and pressure, on the structure of the rubber. The chemistry that occurs under the conditions of vulcanisation is such that the heat and pressure applied allows the sulphur atoms present to attack the double bonds of the carbon atoms in the isoprene strands and bind to them. Since sulphur atoms can also bond to themselves, these "disulphide" bonds start to link adjacent strands of isoprene together – the permanent state of cure known as "crosslinking".
This crosslinking produces a netlike structure that gives a more stable elasticity than the purely electrostatic nature of the pre-vulcanisation bonds, and once created, this vulcanised material cannot easily be broken down. This gives rise to the term "Thermoset", which describes the permanent nature of the change in chemistry of the rubber, rather than the ability for a "Thermoplastic" material to melt and reform into a new shape. The amount of sulphur present determines the hardness of the cured product, and the addition of other chemicals and fillers can further enhance the eventual properties of the finished rubber item. The process that generally came to be known as vulcanisation throughout the world has of course been extensively developed, and is now the global science and industry that is rubber compounding. The traditional sulphur cure system developed all those years ago by Goodyear was just the beginning of what has become a vast selection of different polymer families including synthetic materials, allied to a vast range of curatives, process aids and fillers. These can be combined in an infinite number of ways to deliver tailored and specific performance from the fascinating group of materials collectively known as rubber, yet it all goes back to the accidental discovery that Goodyear had that day in his laboratory, and his curiosity as to the unexpected change that had occurred. Without that, so many technological developments that we take for granted would never have happened; think about that as you drive along on your vulcanised natural rubber tyre treads…..
The post How is rubber Vulcanised? The chemistry and history. appeared first on Martin's Rubber Company.
Other stories in this category: