Rubber mouldings help leak detection system go global
Posted on 11/02/2016 Category: Rubber moulding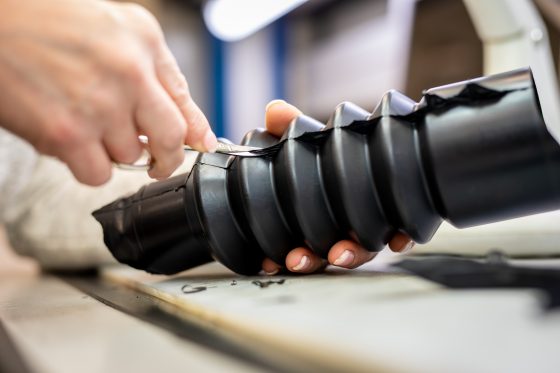 When water network management and leakage control experts Primayer needed a cost-effective rubber moulding that would protect the sensitive components of their Mikron 3 Acoustic Leak Detector, they turned to Martin's Rubber for the solution. Primayer, a Hampshire-based manufacturer of innovative technologies for water systems management, have been a Martin's Rubber Company customer for more than 15 years. As with any innovative engineering company, they're constantly updating their product range and developing new approaches to problem-solving within their areas of expertise, driven by new technology and the needs of their customers.
Rubber moulding protects sensitive components
One such area for Primayer is leak detection, and when they came to us with their latest requirement, we were keen to help. The new Mikron 3 Acoustic Leak Detector uses a sensitive microphone to detect the sound generated by leaks within mains water pipes beneath the ground. This ground mic constitutes a high performance sensor suspended within a rubber-encased housing unit, and advanced electronics allow the user to pinpoint the location of a leak. When they approached us with their proposed solution, they had prototyped and proved the principle of the product already using cast polyurethane. However, due to the limitations that come with this material, and its method of manufacture, they were looking to move toward a production solution to bring the cost down and increase the rate of supply to match their manufacturing requirements. A key consideration was the acoustic properties of the selected materials. The product required acoustic isolation in the bottom rim to isolate any underground noises from transient sounds such as traffic. The rubber moulding element also has to provide protection for the very sensitive internal components. This is because these are in transit much of the time and are likely to be used in a range of environments, including exposure to fuels, water and ozone.
Rubber mouldings for a global supply chain
We designed and manufactured in-house tooling to produce prototype rubber mouldings, working with Primayer's engineers to fine-tune the solution to ensure the fit matched the original PU prototype. We also undertook a material change to provide the acoustic and environmental performance required, and the aesthetic finish that they sought. The final product is now on the market and being sold around the world through their distribution network. We mould the rubber moulding housing unit for Primayer using an injection technique, simultaneously bonding metal inserts in place that securely suspend the critical sensor within the unit. We are extremely pleased to be a part of their supply chain, supporting one of Britain's innovative manufacturers. Contact Martin's Rubber Company today on 023 8022 6330, or email [email protected], for more information about all our rubber manufacturing services and products.
The post Rubber mouldings help leak detection system go global appeared first on Martin's Rubber Company.