The pros and cons of nitrile rubber, NBR or Buna-N
Posted on 02/06/2016 Category: Rubber moulding, Technical Features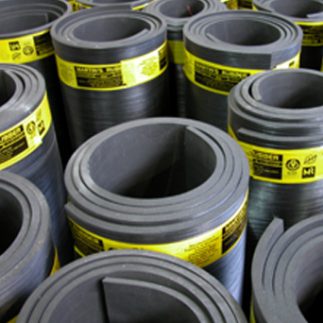 Nitrile, Buna-N or NBR rubber is a widely used elastomer, thanks in large part to its highly oil & fuel resistant properties and tensile strength. In this article, Martin's Rubber Company explains more about the properties, applications, pros and cons of this versatile rubber material.   Nitrile rubber is a synthetic rubber copolymer of acrylonitrile (ACN) and butadiene that you may know better under trade names like Nipol, Krynac and Europrene N. Why might you consider specifying nitrile for your application? Let's find out, with a closer inspection of this rubber material.
What is Buna-N?
Nitrile (also known as NBR rubber and Buna-N) is the seal industry's most widely used and economical elastomer. This is partly because it displays excellent resistance to petroleum-based oils, fuels, water, alcohols, silicone greases, hydraulic fluids. However, it also has a good balance of desirable working properties like low compression set, high abrasion resistance and high tensile strength.
NBR rubber properties
Nitrile is a family of unsaturated copolymers of 2-propenenitrile and butadiene monomers (1,2-butadiene and 1,3-butadiene). Its physical and chemical properties vary depending on the polymer's composition of nitrile. The more nitrile there is within the polymer, the higher its resistance to oils but the lower its flexibility. Nitrile rubber is more resistant than natural rubber to oils and acids, and has superior strength, but suffers from inferior flexibility.
Where is nitrile used?
Nitrile rubber is used in a wide variety of applications, such as O-rings, gaskets, oil seals, automotive transmission belts, hoses, V belts, synthetic leather, disposable non-latex gloves, printer's form rollers and cable jacketing. NBR latex can also be used in the preparation of adhesives or as a pigment binder.
Pros and cons of Buna-N
Nitrile offers the following advantages:
Excellent abrasion resistance.
Good rebound.
Good tear resistance.
Good non-polar solvent resistance.
Good water resistance.
Good oil resistance.
Cheaper than fluoroelastomers
Nitrile suffers from the following disadvantages:
Poor ozone, sunlight, and weather resistance.
Limited high temperature resistance.
Poor flame resistance.
Nitrile rubber products from Martin's Rubber
Speak to one of our advisers today to find out more about our nitrile rubber manufacturing capabilities. We can talk you through your options and give you honest and informed guidance to help you to specify the ideal product for your application. Speak to us today on 023 8022 6330 or email [email protected].
The post The pros and cons of nitrile rubber, NBR or Buna-N appeared first on Martin's Rubber Company.