What are the different types of rubber?
Posted on 27/01/2020 Category: Technical Features Tags: material design, rubber materials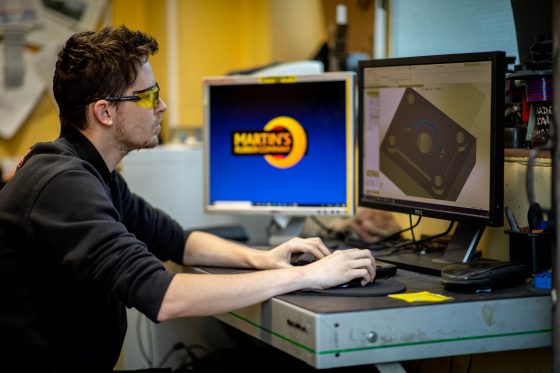 Rubber is an incredibly versatile, all-purpose material that is used across a huge range of domestic and industrial applications. From the natural rubber derived from rubber trees through to an extensive array of synthetic rubbers, there really is a rubber material for every occasion. In this article, Martin's Rubber explores 10 types of rubber, highlighting their advantages, disadvantages and typical uses.
10 common types of rubber
As we know, rubber is flexible. Not just in terms of its elastic and malleable mechanical properties either. Because rubber's chemical properties also make it incredibly attractive for engineering a wide variety of different types of synthetic rubber that combine the best properties of natural rubber with a host of beneficial extra traits.
Here, we will take a closer look at 10 of the more common types of rubber used today.
1. Natural Rubber (NR)
Natural rubber (Isoprene) is derived from the latex sap of the Pará rubber tree (hevea brasiliensis). Natural rubber has a high tensile strength and is resistant to fatigue from wear, such as chipping, cutting or tearing. ON the downside, natural rubber is only moderately resistant to heat, light and ozone damage. Natural rubber is used in gaskets, seals, shock mounts, hoses and tubing.
2. Styrene-butadiene rubber (SBR)
Styrene-butadiene rubber is a low-cost synthetic rubber that offers good abrasion resistance, outstanding impact strength, good resilience and high tensile strength. However, SBR offers poor resistance to sunlight, ozone, steam and oils. The main applications of styrene butadiene rubber include tyres and tyre products, automotive parts and mechanical rubber goods.
3. Butyl (IIR)
Butyl rubber is a great option for shock absorption. It offers exceptionally low gas and moisture permeability and outstanding resistance to heat, ageing, weather, ozone, chemical attack, flexing, abrasion and tearing. Butyl is resistant to phosphate ester based hydraulic fluids and has excellent electrical insulation properties. It has a tendency to trap air, blister and creep during manufacture. Common applications include O-rings, tank liners and sealants. Its impermeability to gas makes butyl ideal for seals in vacuum applications.
4. Nitrile (NBR)
Nitrile (also known as NBR rubber and Buna-N) is the seal industry's most widely used and economical elastomer. This is partly because it displays excellent resistance to petroleum-based oils, fuels, water, alcohols, silicone greases and hydraulic fluids. Nitrile has a temperature range of between -54 and +149 degrees Celsius and has a good balance of desirable properties like low compression set, high abrasion resistance and high tensile strength. It not advisable for use with automotive brake fluid, ketones, phosphate ester hydraulic fluids, and nitro or halogenated hydrocarbons.
5. Neoprene® (CR)
Neoprene®, which is classified as a general purpose elastomer, is unusual in that it is moderately resistant to petroleum oils and weather (ozone, UV, oxygen). It is therefore uniquely qualified for certain sealing applications where many other materials would fail. It has relatively low compression set, good resilience and abrasion, and is flex cracking resistant. Neoprene® shares the same operational temperature range as nitrile and is commonly used to seal refrigerants in air conditioner and refrigeration units.
6. Ethylene Propylene Diene Monomer (EPDM)
EPDM rubber is a versatile rubber offering excellent heat, ozone, weathering and ageing resistance, as well as low electrical conductivity, low compression set and low temperature properties. EPDM can be used as a cost-effective alternative to silicone and, when installed in the correct environment, can last a long time before embrittling. EPDM rubber is used across a range of HVAC and automotive applications, as well as in O-rings and electrical insulation products.
7. Silicone (Q)
Silicone performs well with water, steam or petroleum fluids. Although it can operate within a temperature range of -84 to +232 degrees Celsius, silicone has been shown to withstand short exposures to lows of -115 degrees Celsius. Silicone exhibits poor tear resistance, abrasion and tensile strength, making it better suited to static, rather than dynamic applications. Silicone's chemical stability means it is commonly used in the food and beverage and medical industries, as well as in sealants, lubricants and circuit boards to name but a few.
8. Viton® (FKM)
Viton® is a fluoroelastomer material capable of handling a diverse array of applications. A brand name of DuPont, this durable synthetic rubber and fluoropolymer elastomer offers exceptional temperature stability ranging from -20 degrees Celsius to +205 degrees Celsius. The disadvantages of Viton® are that it can swell in fluorinated solvents, is relatively costly and can fail rapidly if the wrong grade is used. Along with nitrile, it is one of the most common elastomers used for sealing applications, including O-rings, gaskets and seals.
9. Polyurethane (AU)
Polyurethane is well regarded for its all-round general toughness, as well as for its notable abrasion and extrusion resistance. O-rings made from polyurethane material would not be suitable for applications requiring good compression and heat resistance. The latter is due to a narrower operational temperature range of between -54 and +100 degrees Celsius. Polyurethane O-rings are often used for hydraulic fittings, cylinders, valves and pneumatic tools.
10. Hydrogenated Nitrile (HNBR)
Hydrogenated nitrile rubber compounds exhibit better oil and chemical resistance than nitrile rubbers and can withstand much higher temperatures. HNBR promises excellent resistance to oils, fuels, many chemicals, steam and ozone. It also offers exceptional tensile and tear strength, elongation and abrasion resistance. However, HNBR is relatively expensive and offers limited flame resistance, poor electrical insulation and is incompatible with aromatic oils and polar organic solvents. HNBR is widely used in the automotive industry and for a wide range of components, including static seals, hoses and belts to name but a few.
For more information about the properties of these and several other common rubbers, consult our Material Properties Chart. Or to discuss your specific application requirements with one of our experienced technical experts, please contact Martin's Rubber today on +44 (0) 23 8022 6330 or email [email protected].