How we bond rubber-to-metal without using glue
Posted on 13/08/2020 Category: Latest News, Rubber Bondings, Rubber moulding Tags: rubber bondings, rubber moulding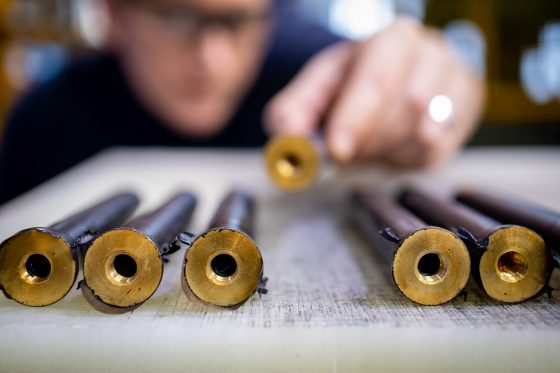 Rubber is an incredibly versatile, multi-purpose material that is suitable for a huge number of domestic and industrial applications. From natural rubber derived from rubber trees through to an extensive array of synthetic rubbers, there is a rubber product that is suitable for every occasion. In this article, we explore the different methods of bonding rubber to metal and highlight why we don't simply use glue in any of our rubber bonding processes.
With over 150 years in the rubber industry, Martin's Rubber are experts in rubber engineering, delivering world-class design and superior quality products. With specialist facilities on site for the full design, development, testing and manufacturing process, Martin's Rubber is the ideal partner for any business looking for elastomer solutions.
What is rubber to metal bonding?
In the world of rubber mouldings, a part that is chemically prepared and attached, or encapsulated as a part of the vulcanisation process, is referred to as being "bonded" to another item. Historically, several bonding methods have been employed within the rubber industry to achieve a dependable and durable rubber-to-metal bond.
At Martin's Rubber, we specialise in rubber-to-metal bonding, adapting the bonding process to suit the unique chemical makeup of each type of metal. We have a long-standing record of producing bonded rubber seals, and other components, to suit the motorsport, aerospace and defence industries to name just a few.
How do you attach rubber to metal?
There are lots of different ways to attach rubber to metal. However, due to the chemical compositions of rubber and metal, using an adhesive may not always be suitable, or sufficient, for securely joining a rubber and metal component with a guarantee of strength.
Our specialist rubber bonding technique uses very specific chemical procedures to effectively join these two materials together as part of the vulcanisation process. This ensures long-lasting, durable bonds that will not be impacted by extreme temperatures and harsh environments.
Which metals can be used in the process?
Almost any metal can be bonded to rubber, providing it can withstand the heat and pressure of the rubber moulding process. However, each metal has a different chemical composition and this needs to be taken into consideration when selecting the bonding agent and process employed.
What are the typical applications for metal-to-rubber bonding?
Metal-to-rubber bonding is suitable for many applications, including:
The adhesion of rubber to metal plates within industrial processes.
For automotive applications, including the attachment of rubber to metal engine mounts.
Within hydraulic and pneumatic applications.
To coat medical devices, such as instrument handles, to ensure cleanliness and comfort.
In the manufacture of electrical appliances and other industries, including bulkhead seals, rollers, connectors, hoses, valves and insulators.
Why use rubber-to-metal bonding?
Manufacturers in several industries rely on rubber-to-metal bonding for some of the components they manufacture. There are a wide variety of reasons for this, including:
In the production of parts that require the flexibility of rubber and the stability of metal.
To combine several parts into a single assembly part.
To ensure the longevity of critical functions with stronger adhesions than a traditional adhesive connection.
To enhance soundproofing and vibration control in an industrial environment.
To seal and protect against solvents, seawater, boiling water and other abrasive environments.
Why is using a bonding agent better than traditional glue?
Martin's Rubber recommends using a bonding agent over traditional glue in applications that will encounter harsher environments. For applications that will encounter abrasive liquids and gases, vulcanisation of metal-to-rubber helps to seal and protect parts within the manufacturing process, reducing the amount of wear and tear on individual components. Bonding between metal and rubber also ensures the longevity of critical functions with a stronger adhesion than a traditional adhesive connection that will deteriorate over time.
With 150 years of rubber industry experience, Martin's Rubber combines superior in-house facilities, materials knowledge and innovative techniques to develop custom-made prototype parts. Our technical experts will listen to your needs, provide cohesive ideas and incorporate your feedback to ensure delivery of the perfect part.
For more information about rubber vulcanisation, and the process of bonding metal-to-rubber, contact Martin's Rubber today on +44 (0) 23 8022 6330 or email [email protected].