100th anniversary of the loss of the RMS Titanic
Posted on 09/04/2013 Category: Martins Rubber News

Since the earliest days of our trading history, back in 1865, Martin's Rubber have had a close connection with the maritime trade here in Southampton, located as we always have been, just outside the oldest part of the docks. It is therefore fitting that we remember at this time the 100th anniversary of the maiden voyage of the ill-fated ocean liner "RMS Titanic", which departed Southampton on 10th April 1912, only to strike an iceberg in the North Atlantic five days later with the loss of 1,514 lives, some 549 of whom were Southampton people, many of them sailors, stewards and engineers employed to crew the ship. It is sobering to walk past on a daily basis in nearby Canute Road, a small plaque, which marks the building that was the offices of the White Star Line in Southampton, outside which crowds of people gathered for news as word of the tragedy spread. Martin's was, at that time and through until the present day, active in ship repair and maintenance services for a number of shipping lines including White Star, P&O, Shaw Savill and Cunard, so one can only imagine the impact these events must have had first hand on the port community, as well as the city and the country as a whole.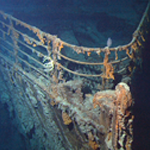 There are a major series of events here in the city this year to mark the anniversary, including the opening of a new museum, the SeaCity, at the Civic Centre, and today, a remembrance service at the quayside where "Titanic" cast off for her fateful voyage. This service is a poignant reminder that of all those who went to sea, two thirds lost their lives in the freezing waters off Newfoundland. As can be seen from our advertisement in the 1927 Southampton Docks Guide, Martin's continued to supply industrial rubber products, rubber sealing and steam engine packings to the port, shipping lines and other marine industry customers. This tradition was maintained through the military activities of the port during the second world war, the switch from passenger traffic to containerisation in the 1960's, and now with the resurgence of cruise holidays seeing over a million passengers a year coming through Southampton, there remains a demand for our products & services around the port. However, at this time our thoughts do turn to those 1,514 souls who lost their lives, the remarkable stories of the survivors, the quiet heroism shown by so many, and the lessons learned that improve safety at sea to this day. Author: Adam Hooper 10th April 2012
The post 100th anniversary of the loss of the RMS Titanic appeared first on Martin's Rubber Company.