Aston Martin Lagonda to share parts with Mercedes M-Class?
Posted on 13/12/2013 Category: Rubber Industry News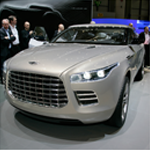 Aston Martin will base its upcoming Vanquish Lagonda SUV on the same platform which powers the Mercedes-Benz M-Class, according to autoblog.com.  Reports suggest the connection between the two luxury car manufacturers is closer than once thought and could see Aston underpin its latest vehicle with the Mercedes-Benz GL platform. This would see the Lagonda gain access to AMG electrics along with 'bespoke, V8 powertrains'. Dr. Ullrich Bez, CEO of Aston Martin, told Auto Blog: "I look at what Porsche is doing with the 911 as its core business and then it is able to do models like the Cayenne based on the Volkswagen Toureg. "It is good business," he said, adding that there still is "lots of potential to be discovered" between the two. Aston is looking to resurrect the Lagonda brand after a dismal outing for its concept vehicle at the 2009 Geneva Motor Show. A Mercedes-Benz Gl-Class was the platform back then and Aston seems fixed on setting the record straight with another collaboration. Carscoops.com says that regardless of what platform Aston decides on, the vehicle must be powerful enough to attract buyers without being too offensive. The site believes China will be a key market for the vehicle but the country's high taxes on engines above four litres could present a stumbling block. The Lagonda is expected to get a full rework and could be launched as early as 2017.
The post Aston Martin Lagonda to share parts with Mercedes M-Class? appeared first on Martin's Rubber Company.