Merry Christmas from Martin's Rubber
Posted on 17/12/2012 Category: Martins Rubber News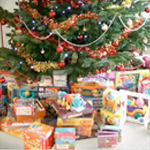 As the festive season came rushing upon us with its icy tendrils and pre-Xmas rush of orders, the discussion about how to show our festive goodwill to our customers also arose.  With the ever tightening corporate policies preventing individuals from accepting gifts, and the groans we hear as yet another belly-busting box of chocolates lands on the desk, we felt that our festive budget and attention may be better spent on those who aren't so lucky. Given our position in the centre of the city, and our ties to the local community having been based here for so long, we decided to look for a local charity – and what we found was the charity Scratch.  Amongst other things, they organise gifts for underprivileged children, who otherwise would receive nothing at Christmas.  Essentially, following kind donations from locals and businesses, they sort them, pack them up and distribute parcels of toys and goodies to selected local children and families so that they don't miss out on the big day.  We thought it sounded like an excellent idea!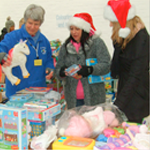 So, we put together an action team of volunteers with the very organised Janine Dixon in charge, got £500 cash off of the Directors (thanks Adam and Paul!), and set about spending it.  We spread the money across age groups and gender, and every shopper did their best to snatch up those Christmas retail deals and get the most for their money.  The rather impressive pile of toys and games were delivered to Scratch to their great delight, and Janine and Eve (pictured), spent a morning helping to pick and pack them – not even a sub-zero temperature warehouse would stop them from getting involved! So, thank you both to everyone at Martin's who got involved, and to our customers who indirectly contributed by not receiving a gift or card from us this year. From all the team at Martin's Rubber, may we wish you a very Happy Christmas, and a prosperous and successful New Year. Date 17th December 2012
The post Merry Christmas from Martin's Rubber appeared first on Martin's Rubber Company.