Ship building to finish in Portsmouth
Posted on 07/11/2013 Category: Rubber Industry News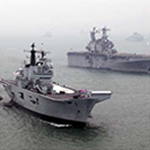 BAE Systems has finally announced the long expected decision on the future of its naval shipbuilding facilities, and it is bad news for Portsmouth. BAE has confirmed that new ships will not be built at Portsmouth any longer, breaking a tradition that has been 500 years in the making. The "Southern Evening Echo" reports on the impact that this will have on local families, and local politicians are expressing their concerns that proposed £100 million support packaged pledged by Defence Secretary Philip Hammond is not a realistic substitute for the loss of 940 skilled jobs in the historic HM Naval Dockyard.
It is likely that the Dockyard in fact supports many thousands of jobs and businesses in the wider Hampshire area, and despite the Dockyard retaining some 10,000 employees on repair and maintenance duties, it seems inevitable that there will be a net loss to the local economy. Whilst it is clear that the ongoing Queen Elizabeth Carrier projects have secured BAE Systems jobs in the short term, the government has yet to decide on the final orders for the new Type 45 destroyers of which the first six are in service, leading up to an eventual possible total of 20 or more that should see service until 2040. Although the Type 45 ships will be based and maintained at Portsmouth, clearly no new construction will now be done. In a further blow to UK shipbiulding, in its report on the Portsmouth closure "The Manufacturer" reports that the government has recently placed order with Daewoo Shipbuilding and Marine Engineering, who were awarded a contract last February to build four new warships for the Royal Navy.
The post Ship building to finish in Portsmouth appeared first on Martin's Rubber Company.
Other stories in this category: