Dunlop Motorsport ends UK tyre production
Posted on 18/02/2014 Category: Rubber Industry News

The internationally renowned Dunlop Motorsport brand of competition tyres will no longer be made in the UK following a strategic decision by the owners of the business. Dunlop has made tyres in Birmingham for some 120 years and following the expiry of the lease on its existing technical centre later this year, production will move to other sites in Germany and France. This will result in the loss of over 240 jobs in both production and race support activities from the UK, a blow especially considering the already weak employment environment in Birmingham. In a statement Sanjay Khanna, managing director, Dunlop Brand Europe, said: "Our strong preference was to remain on our existing site, but this has not proved possible. For several months, we have also worked closely with local agencies and authorities to identify local Birmingham site alternatives.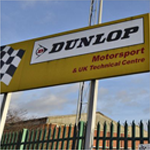 Unfortunately no other appropriate site was available locally which would have provided continuity of supply to our key customers. We understand that this is a difficult time for our employees. It is important our attention is now focused on supporting the employees who will be affected. We will work with our unions and employees throughout the consultation process to provide support." The Competition Tyre operation will leave the Erdington site, with its landmark iconic "Fort Dunlop" building that still stands as a testament to the company that by 1954 employed 10,000 people in the factory, but is now sadly no longer a leading light in UK manufacturing.
The post Dunlop Motorsport ends UK tyre production appeared first on Martin's Rubber Company.