Lock, Choc and Two Smoking Toolmakers
Posted on 21/10/2012 Category: Martins Rubber News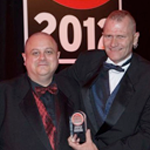 When we sent in our submission to the Plastics Industry Awards back in blistering June for our Tooling Partnership work with Hospital Metalcraft, we were new to the world of Awards Ceremonies and the glitz and glamour that goes with them.  So, when we got the notice that we were through as a finalist and would be attending the ceremony at the Park Lane Hilton, we set about making the most of the occasion! On a breathless, rainy, Autumnal day we climbed aboard our hired chauffeured minibus, rocking dinner jackets, gowns and (mostly just the ladies), gravity-defying footwear – with our H&S Manager there to ensure we remained wobble-free. With champagne and nibbles on arrival, being sure to dodge the potpourri strategically placed next to the nuts, we set about trying out for the fake front page of the PRW magazine – oblivious to the idea that we might actually make the front cover for real three weeks later!  The award for best shot surely has to go to Shaun and Stuart, our toolmakers, for the photographic nod to their happy tool-making team.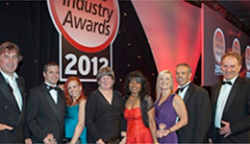 The 4 course dinner was a masterpiece, particularly in light of the 700 plus covers that were served in just over an hour, with the finale of the 'Assiette of Chocolate' a lesson in confectionary delight (supporting evidence available in the number of these consumed by some of us!). Comedian Sean Lock, with his keen observational style and feigned grumpiness, had the audience in stitches, making the awards process enjoyable for both the winners and the observers – gently batting off heckles with his sharp wit.  The highlight of the awards for us though, was the moment when Sean proclaimed us as having 'the most brilliant Company name'. The live Motown gold band that followed the awards had everyone on their feet – even our Projects Director, Paul, couldn't help but head for the dance floor to throw a few shapes.  Meanwhile, the Scalextric provided a chance for some of us to strut our stuff on the track – with Stuart coming out on top (although the rest of us aren't convinced it was all above board). We moved on when the party was re-located to the top floor, heading for home in the small hours and reaching Southampton at around 3am, proving that not only do we work hard, but we also make sure we play hard when we get the chance. There were some absolutely outstanding nominations and winners that night, and whilst we may not have made it that far, we are proud of the work we have done with Bristol Maid on their polyurethane pump and IV stands, and were happy to end up a finalist; if only there were a rubber awards ceremony – now that would really give us something to set our sights on! Author: Claire Clarke Date: 22nd October 2012
The post Lock, Choc and Two Smoking Toolmakers appeared first on Martin's Rubber Company.