Restoring damaged or weathered rubber seals – a guide
Posted on 02/06/2015 Category: Technical Features Tags: restoring rubber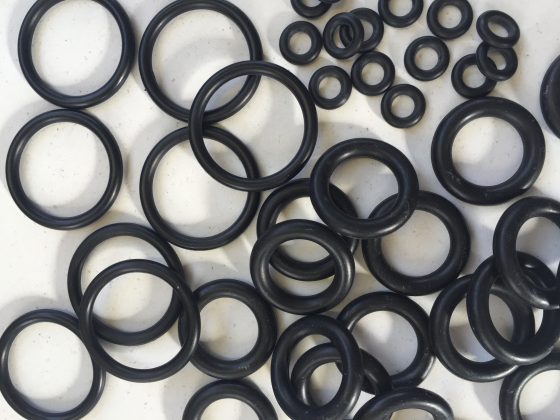 Restoring rubber can be done under the right circumstances, whether additional degradation is from heavy usage of the part, incorrect specification or design for the application in question, or the gradual degrading effect of weather.
Rubber, like many organic materials, has a definite shelf-life; one which depends on the type of rubber in question, and which various outside factors can speed up. Deterioration of rubber items can become significant over time, eventually leading to total failure of the rubber part which can of course have potentially catastrophic consequences. This may mean a minor inconvenience, or become a catastrophic event such as a seal failure allowing fluid or pressure leakage, with either faults being immediately obvious, or, just as concerning, long term unnoticed deterioration of a vehicle or structure. But such damage or weathering need not necessarily spell the end of life for a rubber seal or product, which can potentially be costly, or in practical terms, difficult to replace. With the right rubber restoring techniques, and a sufficient level of care and maintenance, rubber seals or products of certain polymer types can often be brought back from the brink of failure and restored to functionality. Read on, and we'll show you how to help your rubber part live a longer life, in easy to follow steps.
Select the ideal rubber restoring products
You can't do a good job without the right tools for the situation; there is a particularly wide range of rubber restoring products on the market, which can make it much harder to decide what is the best method and products to use. Fortunately, when restoring rubber seals, you can often get very good results simply by using a combination of easy to find household cleaning products, along with a few more specialist products. Depending on the extent of the restoration you are dealing with, you will need some or all of these:
A dry cotton cloth
Small bristled brush
Abrasive File
Coarse and fine grades of Emery or Aluminium Oxide sanding cloth
Diluted bleach (3 measures of water to every 1 of bleach) OR mild soap
Protective gloves
Protective floor covering
Almond oil
Rubber solvent (generally turpentine or naphtha (petroleum) based)
Rubber conditioner (brand names such as Sonax, Wurth, Meguiars etc have suitable products) 
Cooking pot/saucepan (you're not going to want to use this for cooking afterwards, so use an old or cheap option here)
Tongs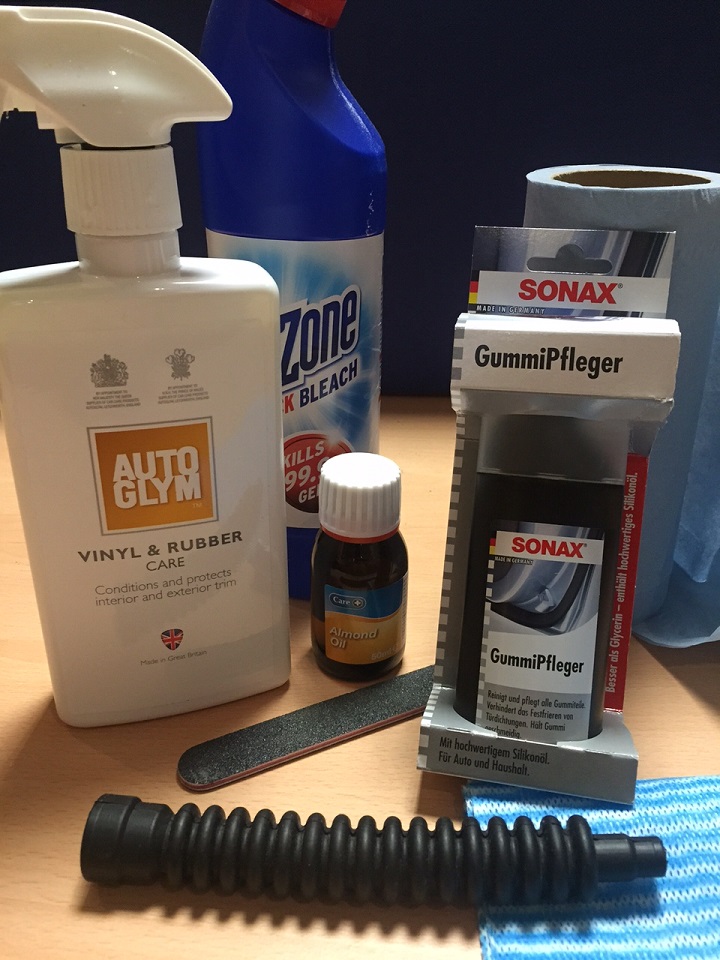 Please note that not all of these may be needed to clean the particular rubber seal in question; a combination of some or all may be required, depending on circumstances and the type of rubber involved. These products are most suitable for natural rubber grades, while synthetic rubber types such as Neoprene, Nitrile, Viton and Silicone may require different products. Consult the literature relevant to the product you are using, or call us for advice.
Preparation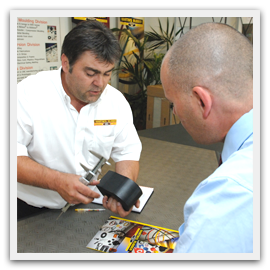 First things first, clear any debris and detritus from the rubber item that you intend to restore. Ensure that you clean off any paraffin wax that has leached out of the rubber as well; a phenomenon known as blooming that occurs more as rubber ages. The rubber solvent listed above makes the removal of any paraffin a lot easier though the wax may still take a little while to soften.
Initial scrub and clean
Next, it's a good idea to give the rubber seal a good scrub; not only will cleaning off any excess dirt improve the seal aesthetically, but will help prevent future wear and tear as dirt chafes the rubber against mating surfaces over time. Depending on how heavily soiled the rubber is, you may  need to use different cleaning materials. For lighter levels of dirt, warm water and a mild soap will be more than sufficient. Heavier levels of dirt, or the presence of mould and mildew, will instead require the application of the diluted bleach mix that we listed above. After giving the rubber a quick clean with the water and appropriate cleaning substance, wash off the item and clean the rubber part down with the cloth. Then allow the part to thoroughly dry.
Apply a rubber conditioner
The specific rubber conditioner you choose to use often a case of personal preference having checked the manufacturers product information; once you have made sure the product you are considering is suitable for your rubber parts, the final choice depends far more on the availability of the product to you; most hardware stores or auto centres should be able to provide a variety of rubber conditioners, and of course on-line shops can provide next day delivery in most countries! Rub the rubber conditioner thoroughly into the seal (use a different cloth to the one in the previous stage, so that you do not transfer dirt or cleaner back onto the rubber!). Once it has been worked in, and the rubber is completely saturated, wipe off the excess conditioner. Rubber conditioners if spilt on the floor can often leave a slippery patch, use the floor covering to catch anything accidentally spilt as this may prevent a slip or fall!
Remove excessively damaged pieces of seal
Even with the most comprehensive techniques for restoring rubber, some seals may have areas of rubber that are too far gone to be fully repaired; if the previous steps are unable to enliven them, it may be better for the overall function of the seal to remove suspect areas completely. The obvious caveat here is that, given the often extremely specific size of rubber seals; removing too much can make the seal useless! Do make sure that the rubber in question will still contact the required mating surface with sufficient engagement to function correctly. Depending on the precise circumstances, repairs with a super-glue or contact adhesive may rescue the part and provide further useful service life. Use the file or abrasive Emery cloth to gently buff off and remove the damaged areas of rubber; you will need to be firm enough to make an impression, while being careful enough to not remove excessive amounts. Once you have removed all the damaged sections, reapply rubber conditioner to the abraded areas to restore protection as per the previous step.
Alternative methods
For smaller, lightly weathered rubber seals, a simpler method is sometimes just as effective; boil some water in the saucepan, add a small amount of soap, and submerge the seal. Every 5 minutes or so, remove the seal using tongs and test its flexibility and condition. The time taken for the rubber to be restored will vary from case to case, but it can be just as effective, and less labour intensive than the previous method! Scrubbing smaller, lightly soiled rubber seals with almond oil is also an effective, simple option, restoring lost flexibility and cleaning away dirt and grime.
The post Restoring damaged or weathered rubber seals – a guide appeared first on Martin's Rubber Company.