What is a lip seal?
Posted on 21/04/2016 Category: Seals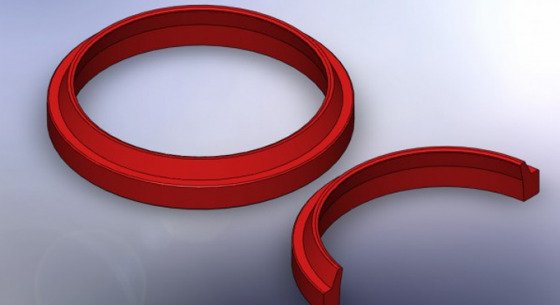 At Martin's Rubber we like to keep our clients informed about what we do, our products and our manufacturing processes. In this article, we look at lip seal design, dispel any confusion around the terminology of lip seals, and describe the manufacturing process behind them. We are often asked: what is a lip seal? It is a subject that causes some confusion. The specific design of a lip on any given seal will vary depending on the application. Many seal types have so-called lips as part of their design. This is not exclusive to radial, rotary, or linear shaft seals. Aside from acting as a dam or a barrier, lip seals also act as a pump and are widely used in conjunction with rotary, reciprocating and oscillating shafts. The main functions of a lip seal (also known as a radial or rotary seal, which we'll come to shortly) are to retain lubricants, remove contaminants, confine pressure and separate fluids.
Radial seals vs rotary seals
Lips are an integral part of the design of wiper scraper seals, so these can technically be described as lip seals. However, it is worth noting though that there is not a standard for a design called a lip seal. Just to add to the confusion, radial seals (another branch of seals that are often described as lip seals) are also more commonly known as rotary seals here in the UK. Radial is used more frequently in the US, though it is technically correct because the seal is radially energised (typically with a spring), as it is smaller than the shaft passing through it. However, because this type of seal is most commonly used where a rotating shaft passes through it, the more common European name – rotary shaft seal – is preferred. Similar, yet subtly different, rotary seals are also used in linear applications, such as motorcycle fork stanchion sliders. These require a different lip design altogether and hence confusion can arise with the whole rotary terminology. Application errors can occur because of these misunderstandings. Here at Martin's Rubber, we can guide your selection process to ensure you are matched to the most appropriate lip seal for your application.
Martin's Rubber lip seals
Among our extensive range of rubber products here at Martin's Rubber, we manufacture a wide variety of seals, including lip seals. As well as our extensive array of rotary seals, we can also supply standard or bespoke wiper scraper seals, single or double acting piston seals, rod seals and static seals to name but a few. We recommend speaking to one of our advisers about your application requirements. Our knowledgeable team can give you the best possible recommendation to help you to specify a suitable lip seal. Contact Martin's Rubber Company today on 023 8022 6330, or email [email protected], for more information about all our rotary lip seals, manufacturing services and products.
The post What is a lip seal? appeared first on Martin's Rubber Company.