Ducati BSB Evo custom seat foam
Posted on 16/12/2011 Category: Product & Application News

Moto Rapido Racing have been increasingly sucessful in British Superbikes, progressing to 5th place in the 2011 Evo category with rider Scott Smart. As part of setting up any competition machine for maximum performance, it is vital to match the ergonomics of the vehicle with very best mechanical performance, and this is especially true in motorcycle racing. Race technician Zane Mumford brought his long experience in preparing GP motocross machinery, where the extreme physical demands of that branch of motorsport make ergonomic setup essential, into play on the 1198 Ducati for Scott. As part of a number of modifications, Martins Rubber were happy to use our expertise in rubber fabrication to provide some custom seat foams to allow evaluation of a variety of posture changes for better performance off the start and in cornering.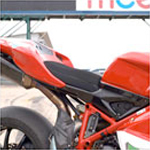 All this attention to detail helped Scott amass a significant points tally during the season, and showcase the capabilities of the impressive 1198 machine. Author: Adam Hooper 16th December 2011
The post Ducati BSB Evo custom seat foam appeared first on Martin's Rubber Company.